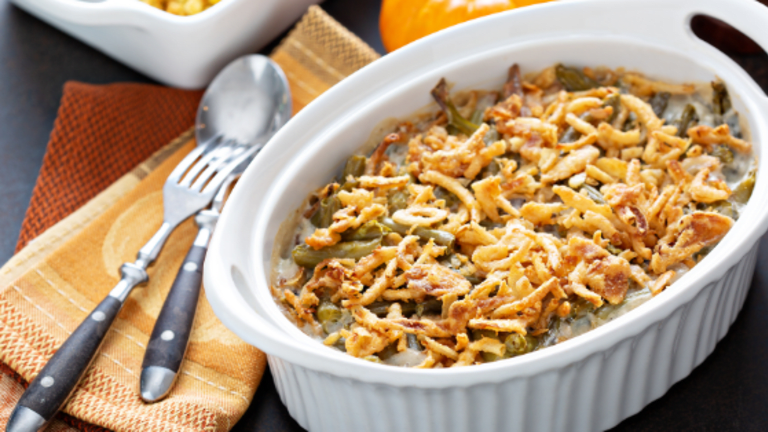 Classic Thanksgiving Recipe Green Bean Casserole
Prepping for Thanksgiving means carefully selecting side dishes. Check out the green bean casserole fun facts and get a classic recipe.
With 30 million green bean casseroles set to appear on Thanksgiving, I thought we could check in on the results of a fun holiday survey: "New York is ranked #20 in the U.S. for love of green bean casserole, according to the Del Monte GreenBean Index." Where does your state rank? Before you dive into the bean facts, let's revisit a classic Thanksgiving recipe for a green bean casserole.
Related: How to roll a pie crust
Classic Thanksgiving Recipe Green Bean Casserole
2 can (10.75oz.each) Campbell's Condensed Cream of Mushroom Soup
1 cup milk
2 tsps. soy sauce
¼ tsp. black pepper
4 can (14.5oz.each) any style Del Monte Green Beans, drained
2⅔ cups French's French Fried Onions, divided
Classic Thanksgiving Recipe Green Bean Casserole Directions
Preheat oven to 350° F
Stir soup, milk, soy sauce, black pepper, beans and 1 1/3 cups onions in a 3-qt. casserole.
Bake at 350° F, uncovered, 25 minutes or until bean mixture is hot and bubbling. 
Stir bean mixture. 
Sprinkle with remaining onions.
Bake 5 minutes longer or until onions are golden brown.
Green Bean Casserole Fun Facts
To conduct this study, bean counters at Del Monte asked 1,500 Americans to "go green bean" and rate their fondness for the classic green bean casserole side dish.
Check out the Top 20 U.S. states with the highest concentration of green bean casserole lovers as well as the classic recipe below. 
THE TOP 20 U.S. STATES THAT LOVE GREEN BEAN CASSEROLE
Kentucky (78% of residents 'really like or love the dish')
Wisconsin (77%)
Missouri (76%)
Iowa (75%)
Maine (74%)
New Hampshire (73%)
Florida (72%)
Colorado (71%)
California (69%)
Mississippi (68%)
Oklahoma (67%)
Utah (66%)
Kansas (66%)
Texas (65%)
Maryland (64%)
Ohio (63%)
Massachusetts (62%)
Illinois (61%)
Michigan (60%)
New York (60%)
TOP FIVE 'SECRET INGREDIENTS' FOR GREEN BEAN CASSEROLE:
Del Monte also asked state residents to rate their favorite "secret ingredient" -- a single, creative item that can be added to the casserole's iconic green bean, cream of mushroom, and french fried onion flavors to make it unique and different. According to the survey, the Top 5 most-wanted secret ingredients are:
Bacon (37% picked it as their favorite secret ingredient)
Cheese (19%)
Mushrooms (15%)
Bread crumbs, croutons, or crushed crackers (12%)
Almonds (8%)
Are you making green beans for Thanksgiving dinner? We've got another fun Campbell's recipe here for a mini version.
TO HELP YOU PREPARE FOR THANKSGIVING CHECK OUT OUR FAVORITE POSTS:
PIN IT!
Use Pinterest to save your favorite crafts. Be sure to follow our Thanksgiving and Halloween Crafts Board.
Momtrends was not paid for this post.