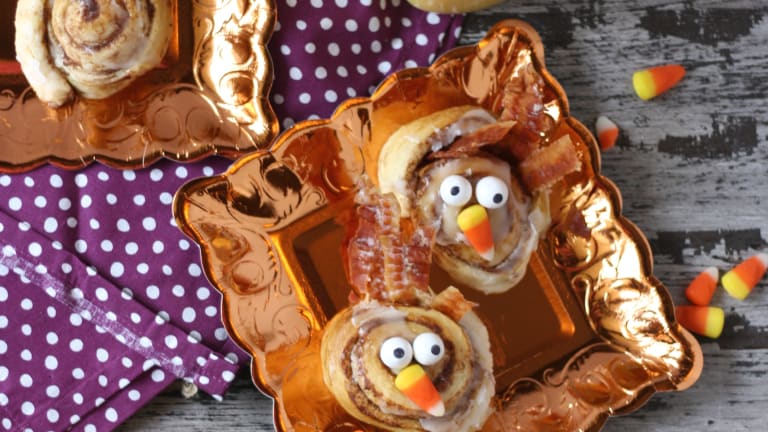 Cinnamon Roll Turkeys
Your Kids Will Gobble These Sweet Thanksgiving Treats Up
Gobble gobble! The kiddos wake up on Thanksgiving morning with energy and excitement for the day ahead. Before you watch the parade or head out on a family 5K, whip up a crafty-cute breakfast your kids will absolutely adore. These sweet cinnamon roll turkeys taste good and look even better. Happy Thanksgiving!
Related: Thanksgiving gratitude free printables
Cinnamon Roll Turkeys
This recipe is easy to make and a real crowd pleaser. It requires a handful of ingredients and is going to make your house smell delicious.
Cinnamon Roll Turkeys Ingredients:
1 can Pillsbury Cinnamon Rolls
1 package bacon
Candy Eyes
Candy Corn
Cinnamon Roll Turkeys Directions:
Bake Pillsbury Cinnamon Rolls according to package directions.
Glaze with icing while still warm.
Cook bacon until it is slightly on the crispy side.
Cut the pieces of bacon into thirds.
Tuck 3 pieces of bacon into the last fold of the cinnamon roll.
Use candy eyes and candy corn as your turkey's face. 
Want another delicious cinnamon bun recipe? Check out this one from MomGerenations.
More Delicious Thanksgiving Recipes
PIN IT!
For more Fall crafting fun, be sure to follow our Fall Thanksgiving & Halloween board here.
This is not a sponsored post.