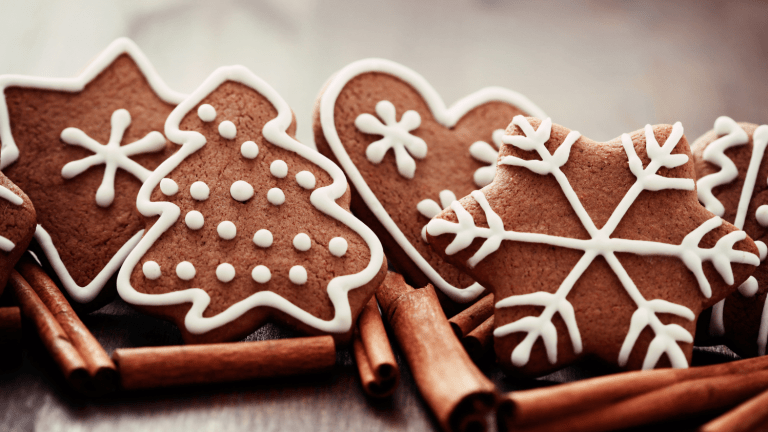 Christmas Gingerbread Pancake Recipe
To celebrate the Christmas season, try Gingerbread Pancakes for a special breakfast.
Pancakes are a typical breakfast in my house during the weekend. I love that we don't have to wolf down oatmeal or waffles, or forage on something quick like cereal. This is our time to relax and enjoy a treat together. To celebrate the Christmas season I made this Gingerbread Pancake Recipe.
Related: Host a gingerbread house party
This week, I tried something a little different than our standard recipe and tested out the Gingerbread Pancakes with Banana Puree from my new cookbook, Taste of Home Best Loved Recipes (note: this is an Amazon Affiliate link). Packed with more than 1,400 recipes for literally every occasion, I loved combing through the book and discovering new recipes and meal ideas for my family.
Created from editors of the Taste of Home magazine, the book highlights the recipes from real home cooks featuring some of the most cherished recipes from over the years, including: Mom Made it Best, Our Favorite Contributor's Meals, Mealtime Express, Cooking for One or Two, Potluck Picks, etc. Covering 26 chapters, the book is also packed with helpful ideas, tips, storage charts, how-to photos, and at-a-glance prep and cook times to ensure that you have help every step of the way.
Christmas Gingerbread Pancakes
Reprinted from Taste of Home Best Loved Recipes (c) 2012 by Reiman Media Group, LLC. Available wherever books are sold. 
For these pancakes, I was really intrigued by their use of ginger. Having never made pancakes with these ingredients before I was excited to test them out and use components like bananas that I normally would not puree and add on top. I opted to stayed true to most of the recipe, which involved the basic components of pancakes as well as with the addition of molasses, all spice, and brown sugar. With some help from my sous chef (aka daughter), our batch of pancakes was up in ready in a few minutes where we all dug in and enjoyed the sweet victory of cooking them from scratch and having the time together to do so.
Gingerbread Pancakes Ingredients:
makes approximately 3 dozen pancakes
2 cups milk
1/3 cup confectioners' sugar
2 medium bananas, chopped
3/4 cup butter, softened
1-1/2 cups packed brown sugar
6 eggs
1-1/2 cups molasses
6 cups all-purpose flour
4-1/2 teaspoons baking powder
1 tablespoon ground ginger
1 tablespoon ground cinnamon
2-1/4 teaspoons salt
3/4 teaspoon ground allspice
4 cups 2% milk
Gingerbread Pancakes Directions:
In a large bowl, beat cream until it begins to thicken. Add confectioners' sugar; beat until soft peaks form. Fold in bananas. Cover and chill until serving.
In a very large bowl, cream butter and brown sugar until light and fluffy. Add eggs, one at a time, beating well after each addition. Beat in molasses. Combine the flour, baking powder, ginger, cinnamon, salt and allspice; add to the creamed mixture alternately with milk, beating well after each addition.
Pour batter by 1/4 cupfuls onto a greased hot griddle; turn when bubbles form on top. Cook until the second side is golden brown. Serve with banana cream. 
MORE HOLIDAYS FROM MOMTRENDS
PIN IT!
Use Pinterest to save your favorite gift ideas. Be sure to follow our Holiday Recipes and Crafts board here.
Momtrends was not paid for this Gingerbread Pancakes recipe.