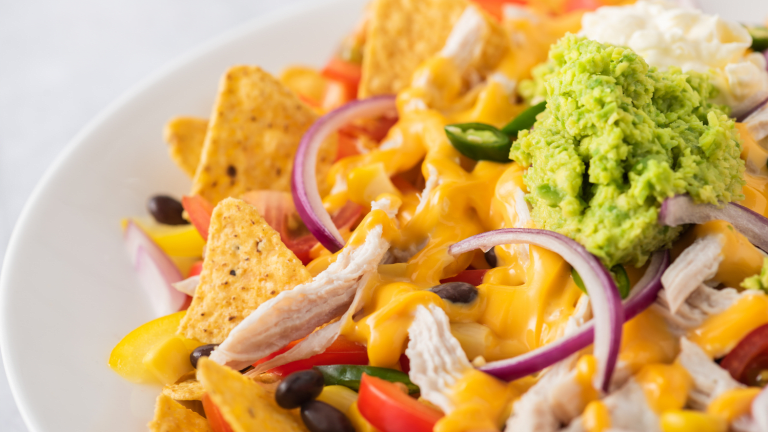 Cheesy Chicken Nacho Recipe
Soup is also an incredibly versatile ingredient and a this fall recipe will soon become a family favorite.
This week you're likely to let the kids indulge a bit on sweets. And guess what? More holidays are coming. The kids want sweets. Moms want the kids to eat well-balanced meals with plenty of nutrition. I rely on easy recipes that are ready in a flash with wholesome ingredients like this cheesy chicken nacho recipe. 
Related: Nacho bar bacon chile con queso recipe
Now that the crazy holiday season is upon us, it's easy to let our standards go and give in to giving the kids junk. Campbell's is making it easy to give everyone what they want this season. 
Cheesy Chicken Nacho Recipe
Planning on hosting a party this year? These Chicken Nachos are easy and filling! and you'll feel great knowing you are preparing something fresh for them.
Cheesy Chicken Nacho Ingredients
1/2 cup Pace Chunky Salsa
1 can (10 3/4 ounces) Campbell's Condensed Cheddar Cheese Soup
1 can (12.5 ounces) Swanson Premium White Chunk Chicken Breast in Water, drained
1 bag (about 10 ounces) tortilla chips
Chopped tomato
Sliced green onion
Sliced pitted ripe olives
Cheesy Chicken Nacho Directions
Heat the salsa, soup and chicken in a 1-quart saucepan over medium heat until the mixture is hot and bubbling, stirring often.
Spoon the chicken mixture over the chips. Top with the tomato, onion and olives.
Sure soup alone is a perfect way to fight off the chill in the air and to get a quick meal on table, but don't for get soup is also an incredibly versatile ingredient. Campbell's has a few more dinner ideas to share that are perfect for the crisp fall nights. Getting the kids to eat vegetables just got a lot more easier with this Veggie Goodness (Chicken Broccoli Divan) recipe. I'm happy that I can serve up something this tasty AND get the girls a full serving of vegetables.
MORE WARM UP RECIPES FROM MOMTRENDS
PIN IT
Save your favorite ideas on Pinterest and be sure to follow our board Ski Mom Stuff for more winter food and drink ideas.
Momtrends is proud to be a paid Campbell's Soup Blog Ambassador. Each month we are sent inspiration to share with you. We're never scripted and have honest to goodness love for this brand.