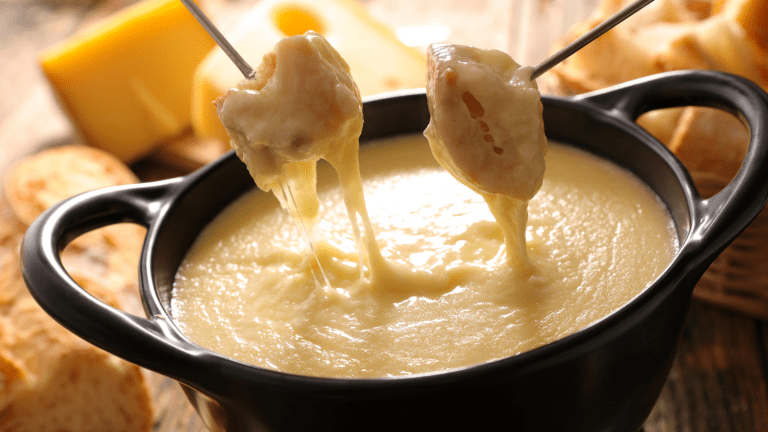 How to Celebrate National Fondue Day
Tips and etiquette for your fun fondue parties.
Did you know that April 11th is National Cheese Fondue Day, a time to fire up the fondue pots for food, fun and good conversation? To celebrate, Emmi Roth USA, whose Original Cheese Fondue is made using the traditional Swiss recipe, shared the must-know fon-DO's of fondue everything from how to treat the host to tips for when you dip along with some other touches of etiquette that sometimes get lost in translation.
The first tip is to start with the right cheese. Emmi Roth makes cheese that's easy to prep. When you buy these packs, keep in mind they are small. Sure, it's expensive, but a lot easier than all the grating and stirring of making cheese fondue yourself. Hint, add some extra cherry Kirsch.
You can buy this classic Swiss Fondue cheese on Amazon here. (note this is an Amazon Affiliate link)
You'll also need a great fondue pot. I love this cast iron pot set, it includes 6 fondue forks and works for meat, cheese, and chocolat. Get the Swissmar Sierra Cast Iron Fondue Set on Amazon here. (note this is an Amazon Affiliate link)
Fondue Manners
The simple staples of etiquette sometimes tend to go by the wayside, but they go a long way in showing the host that this hard work in creating and hosting the meal is appreciated.
Don't arrive empty handed. Bringing something to dip is always a good hostess gift.
Be a little adventurous by tasting everything you are served (the exception to the rule is a dietary restriction, in which case you may politely decline).
Sample before salting. Try a bite of your food before adding anything. Fondue is already seasoned with spices and wine, so it might be perfect just the way it is.
Be A Delightful Dipper
While fondue is all in good fun, there are a few basic guidelines to follow in consideration of other guests.
Skewer like a pro. Be sure your food is secured to your fondue fork or skewer before dipping to avoid losing it in the cheese.
If you missed the first step and drop your dipper into the fondue, politely ask for the host's help in removing it to ensure the pot remains clean for all.
Perfect your twirling and swirling. It is polite to make one to two small swirls before removing your food.
Resist the urge to double dip. Food that has been bitten should never return to the communal pot.
Tasting Notes
It's all in the details, and these simple suggestions will ensure that you keep it classy, but still casually cool, when indulging.
Wait your turn. Allow one person to dip at a time and proceed in a clockwise or counterclockwise fashion around the table.
Don't bite off more than you can chew. Dip larger pieces and then cut them into smaller bits on your own plate.
A moment on the lips is frowned upon. Your fondue fork or skewer should never directly touch your mouth. Transfer your food to your plate before indulging.
Let it cool. Never blow on freshly dipped hot food. Avoid splatters and allow your food to cool slightly on your plate.
MORE FOOD TRENDS FROM MOMTRENDS
PIN IT!
Use Pinterest to save your favorite recipes ideas. Be sure to follow our Recipes to Inspire Board here.
Momtrends was not paid for this post. We were give samples for review.