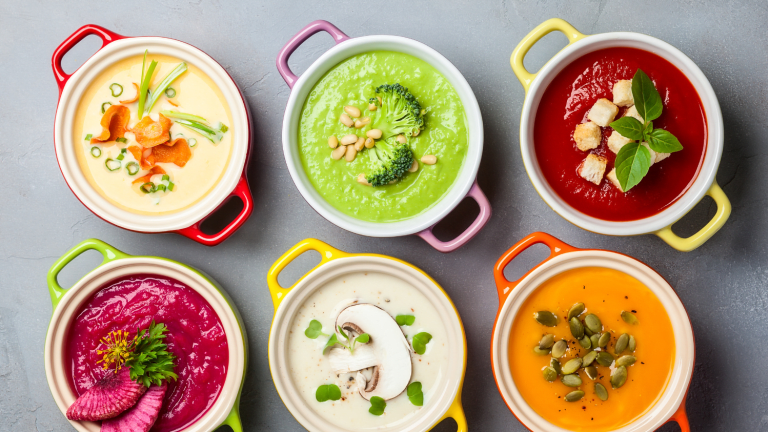 Best Soup Recipes for Cold Winter Nights
We've rounded up the best soup recipes for cold winter nights. These meals are delicious, soul-warming, hearty, and satisfying.
Do you think the groundhog will see his shadow today—or is spring coming sooner than expected? Well, regardless of what Punxsutawney Phil does or does not see today, the fact is: we still have a month and a half left of the woe-some winter. Cold, windy, snowy, brutal, and blustery conditions are inevitable. Brrr. (UPDATE: It's official. He saw it! So don't put away those mittens and pom-pom hats just yet!)
Luckily for those of us who like an excuse to celebrate, Groundhog's Day is not the only holiday on the calendar this week. (No, we're not talking about the Super Bowl... Although, all of the recipes below are most definitely SB-worthy!). Saturday, Feb. 4, just so happens to be National Soup Day. And I fully plan on taking advantage with a steaming hot bowl of soul-warming deliciousness.
I love the versatility of soup. It's a great and easy lunch served with a salad or a hearty dinner when served with a hunk-a-chunk of Italian bread. I love me a grilled cheese, but I prefer my soup to be a self-contained meal with protein, veggies, carbs, and all sorts of salty, spicy goodness cooked inside. Every spoonful should be a delightful surprise!
I plan on slurping up a lot of soup throughout February and March, and so I've rounded up a few new recipes that are flavorful and fulfilling. Soup is on—get it while it's hot... and cold outside!
Beefy Nacho Soup via The Recipe Critic
Creamy Tuscan Tortellini Soup via The Best Blog Recipes
Vegetarian Cabbage Soup via Chef DeHome
Chipotle Potato Soup With Cheddar via Platings and Pairings
Lasagna Soup via Flavor Mosaic
Slow Cooker Split Pea Soup via From Valerie's Kitchen
Chicken Fajita Rice Soup via Carl's Bad Cravings
MORE WARM UP RECIPES FROM MOMTRENDS
PIN IT
Save your favorite ideas on Pinterest and be sure to follow our board Ski Mom Stuff for more winter food and drink ideas.
This is not a sponsored post. All opinions are our own.