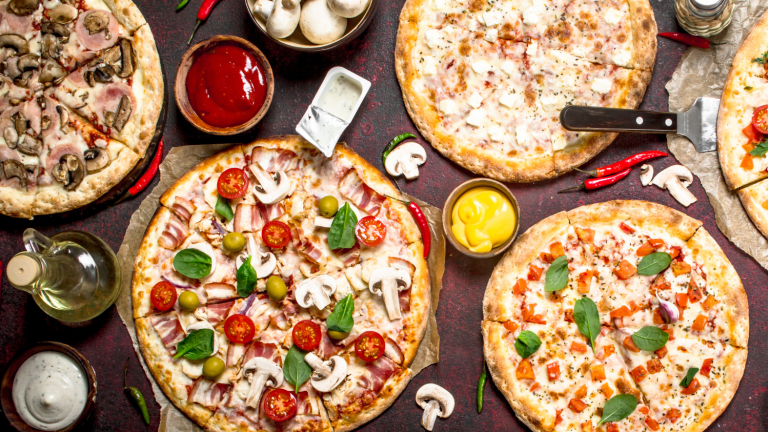 The Best Pizza Recipes—and a Few "Cheesy" Finds
To inspire you to make your own pies, check out the best pizza recipes around.
If there's one thing we consume a lot of in my house, it's pizza! My kids are the pickiest eaters ever, and it's one of the few self-contained meals we can actually all enjoy together as a family. And, you know, it's got the essentials: protein, carbs, and, um, vegetables (tomato sauce counts, right?). To inspire you to make your own pies, check out the best pizza recipes around.
Related: Best pizza and wine pairings
The Best Pizza Recipes
The husband and I enjoy all sorts of toppings on our pizza: salad, spinach, pepperoni, sausage, meatballs, and broccoli. Of course, my littles like it plain and simple. But, hey, they're eating, so no complaints here!
Whether you are celebrating National Pizza Day (February 9th), or just a Tuesday, find a recipe that makes you happy. We're going to have our own little pizza-feast party! We usually order in from our favorite local place, but I'm going to shake things up tomorrow and we're going to make our own! In fact, we might bake up a few- pies: cheese for the kiddies and maybe something more exciting for the grownups. (You can never have too much pizza.)
I've rounded up a few incredible pizza recipes to make and eat tomorrow... or, you know, every day.
Traditional New York Style Pizza
This New York Style Cheese Pizza Recipe features a chewy crust, sweet and tangy sauce, and plenty of gooey cheese!
Get the recipe: Traditional New York Style Pizza via Baker by Nature
Spinach-Artichoke Pesto
Use your favorite pesto to make the most amazing pizza ever.
Get the recipe: Spinach-Artichoke Pesto Pizza via Two Peas & Their Pod
BBQ Chicken Flatbread Pizza
One of our favorite pizzas from CPK was the bbq chicken flatbread pizza, and this is a twist on that divine creation.
Get the recipe: BBQ Chicken Flatbread Pizza via Le Crème de La Crumb
Butternut Squash Pizza
Do you like butternut squash? If the answer is yes, you'll adore this. 
Get the recipe: Butternut Squash Pizza With Kale and Goat Cheese via The Balanced Berry
Taco Pizza
Taco Pizza is loaded with refried beans, seasoned ground beef and all your favorite taco toppings.
Get the recipe: Taco Pizza via Life in the Lofthouse
Pepperoni Skillet Pizza 
It's like a deep dish pizza but without all the grease that typically comes with one.
Get the recipe: Pepperoni Skillet Pizza via Tina's Chic Corner
Pizza Dip
If you want pizza NOW and don't have the time to make a low-carb crust, then you're in luck. Ditch the crust and make a pizza dip!
Get the recipe: Pizza Dip via Keto Connect
Rainbow Veggie Pizza
Low-carb Cauliflower crust rainbow pizza is packed with veggies inside and out, and is perfect for kids and adults.
Get the recipe: Rainbow Veggie Cauliflower Crust-Pizza
MORE STAY-IN IDEAS FROM MOMTRENDS
PIN IT!
Looking for more food ideas? Check out the Momtrends Recipe Board on Pinterest!
This is not a sponsored post. It may contain affiliate links. All opinions are our own.