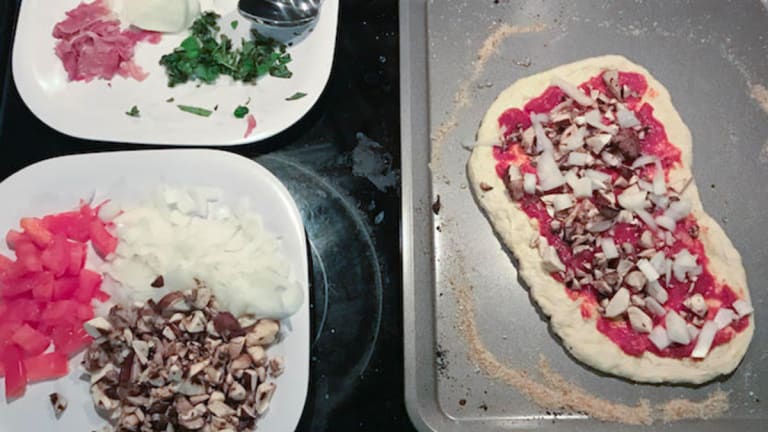 Best Pizza Recipe Ever
This easy two ingredient dough uses Greek yogurt to make a yummy pizza crust in a flash.
It's National Pizza Month and you don't have to twist my arm to celebrate this one. Because I am inundated with delicious options for this classic dish all year round, I wanted to see if I could make my own pizza without having to go through Seamless. This easy two ingredient dough is perfect for busy families and the best EASY pizza recipe ever.
Related: Easy mini pizza for kids
Best Pizza Recipe Ever
One of the easiest ways to make pizza crust is to find really good pizza flour. I try to go for the organic pizza starters but if you can't find any, regular ol' flour will do!
Pick your flour then add 3 cups to one cup of greek yogurt. Add in a little water if you need more moisture or a little more flour if you need it thickened up. Mix together until you can form a ball. Refrigerate the dough for an hour. Then use it to make your pizza!
Greek Yogurt Pizza Dough
Spread out the dough with your fingers and try not to squish it too much. 
Continue to separate until you've got an oblong shape.
Round the edges a little bit to give yourself a crust. 
Lightly spread it with olive oil and then go to town with sauce and toppings.
Getting the kids involved will be a breeze especially if you provide them with lots of topping options. Get creative and put in things you might not normally try like pineapple, sardines, or different cheeses. It will be fun to see what they choose. I have a little herb garden growing in my apartment and adding a touch of fresh basil makes a huge difference!
My favorite trick to get restaurant-style pizza at home is to place breadcrumbs on the baking sheet before you place your pie on it. It helps to keep it from sticking and adds that texture we all know and love. Use different cheese options like fresh mozzarella and shredded versions to make sure it covers your pizza entirely. Bon appetit!
MORE FOOD FEATURES FOR YOUR FAMILY FROM MOMTRENDS
PIN IT!
Use Pinterest to save your favorite recipes. Be sure to follow our Kid Food Pinterest board here.
This is not a Sponsored post