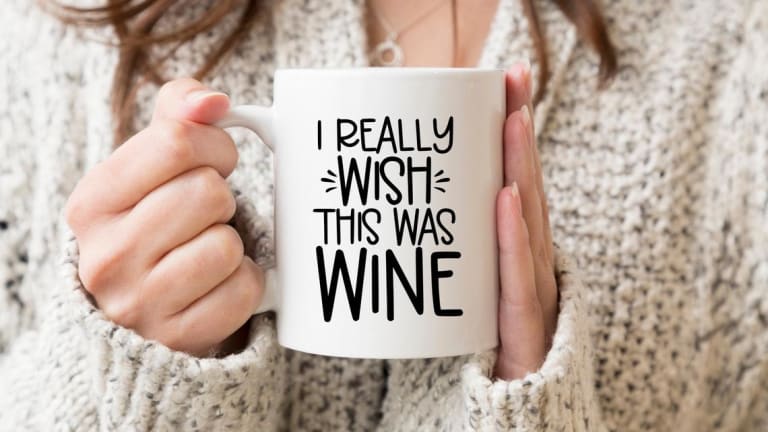 Best Mugs for Snow Days
Time to grab a warm drink and watch the snow fall, here are favorite mugs for snow days or any winter day.
T-minus 10 hours until bedtime... Yes, I'm already counting down the minutes and nano-seconds on this cold, snowy, blustery Saturday morning. Time to fill one of my favorite mugs and snuggle up. Need a great mug? Here are my favorites for snow days or any winter day.
Related: Hot toddy recipe
With snow in the forecast, the hubby, kids, and I are trapped indoors for the foreseeable future (AKA the weekend). My two littles have been up since 4:50 and 5:55 AM, respectively—and cabin fever is already in full effect.
My solution for the housebound blizzard blahs: coffee + wine. Or, better yet, just wine. In a coffee cup. Yes, I think it's totally acceptable to break the 5 PM wine-o'-clock rule on a snow day—within reason, of course. And these clever mugs give you and your day drinking a stylish sense of humor.
So, fill 'er up and suck it up, mamas... Bedtime will come. Eventually. And, until then, sip responsibly.
Best Mugs for Snow Days
Top Left to Bottom Right: 1. "I Wish This Was Wine" Mug, $12 /2. "Coffee JK… This is Totally Wine" Mug, $12/ 3. "Shhh… There's Wine in Here" Mug, $ / 4. "It's Decaf, Because Wine Isn't Caffeinated," Mug, $13 / 5. "There's a Chance This Is Wine," Travel Mug, $18 / 6. "Life Is What Happens Between Coffee & Wine," Mug, $14 / 7. "Coffee Keeps Me Going Until It's Acceptable to Drink Wine," Mug, $18 / 8. "I Just Rescued Some Wine, It Was Trapped in a Bottle" Mug, $15 / 9. "Coffee Is My Daytime Wine" Travel Mug, $14
MORE FAVORITE HOLIDAY DRINKS
PIN IT!
Use Pinterest to save your favorite gift ideas. Be sure to follow our Holiday Recipes and Crafts board here.
This is not a sponsored post. It may contain affiliate links. All opinions are our own.