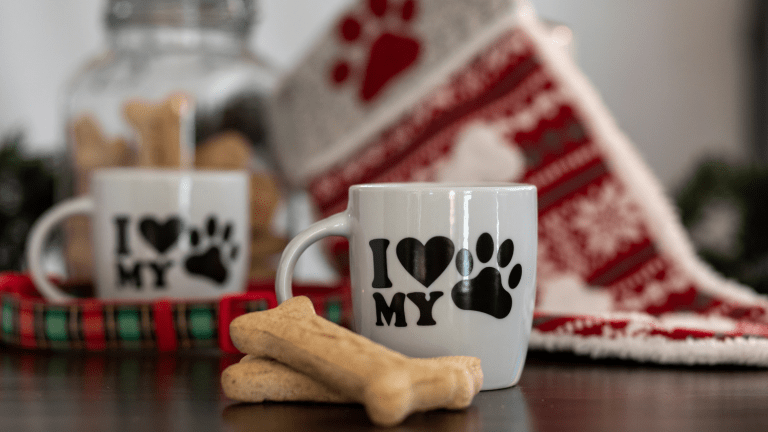 Best Holiday Gifts For Your Dog
Spread the holiday love to the fuzzy members of your family with our favorite goodies.
Our pets...fluffy little friends...our "fur-babies"...It's clear that we love our pets. I mean, who could resist this face? Last year we spent over $60 billion dollars on them which is more than we spent on ourselves at the salon. It's pretty clear that we care about our pets and want to treat them with the love and respect that they deserve. The holiday season is a great time to get your furry friend a treat and we've got options big and small.
Best Holiday Gifts For Your Dog
Dog Toys: Sturdy dog toys to keep your buddy entertained for hours. Rope toys made of 100% azo-free dyes, recycled cotton yarns. Shop Pottery Barn here ($16 each)
Plaid Walk Set: Step out in style with a coordinated kit of our most popular dog walking essentials. Each set is a hand-picked combination of a leash, collar, and waste bag dispenser. Save $20 when you purchase the set. You pick the length and the size. Shop Foggy Dog here ($95)
Checked Dog Bed: Made from eco-friendly recycled post-consumer plastic bottles, this cushy bed is modeled after an oversized pillow, perfect for relaxing after a long day of running, fetch and more. The removable, machine-washable cover makes it easy to clean. Three sizes, three colors, so you can customize for your home and dog. Shop for the dog bed here ($120)
Orijen Dog Biscuits: Dogs love these nutrient-dense treats that are packed with high-protein animal ingredients like chicken, turkey, and herring. The first three ingredients of every recipe are always fresh or raw animal proteins like poultry, fish, organs and bone. Makes a healthy, energizing, anytime reward for your dog and is breakable for smaller dogs. Made in the USA: Crafted in our state-of-the-art Kitchen using quality ingredients from around the world. Get the original biscuits here. ($8.99) (Note: This is an Amazon Affiliate link)
Core Sweater: The K9 Core Sweater keeps your dog cozy where it counts without restricting his movement or slowing him down. Constructed with 10 oz. knit fleece—slightly heavier than the normal weight—it's perfect as a standalone in cool weather, or as a layer when winter starts to get a little mean. Throw in the zippered opening to accommodate a harness, and adjustments at the neck and chest, and you're looking at one of our most versatile, essential sweaters, perfect for every dog, landlubbing and seafaring alike. Shop the Kurgo Sweater here.($32.99)

Pet House Candles: Replace all traces of pet odors with the lovely scent of the Pet House Mediterranean Sea Natural Soy Candle. Made especially for homes with furry companions, this essential oil-infused candle uses a powerful odor neutralizer that clears the air of what you don't want to smell—and leaves behind a tranquil blend of floral accents, lemon and lime, and a hint of sweet amber musk. Plus, it's all hand-poured right here in the USA with 100% natural soy and a cotton wick that is totally safe for doggies. The stylish designs look great in any space, and the large 8.5-ounce jar can even be reused to hold candies, pet treats, and more.Key Benefits. 8.5 ounce offers approximately 70 hours of burn time with a reusable jar. Hand poured in the USA with 100% natural soy wax and a 100% cotton wick so it's doggie safe. Uses a powerful odor neutralizer that is specifically formulated to freshen homes with pets. Leaves behind a tranquil marine scent blended with floral accents, lemon and lime, and a hint of sweet amber musk Get your candles on Chewy here. ($21.95)
Yeti Dog Bowls: Upgrade your dog's dining experience with this food safe dish. The Boomer 8 holds 8 cups (64 ounces) of enjoyment. Perfect for kibble, water, and prime cuts. It's puncture resistant, rust resistant, and tough enough to handle any dents and dings. I love that it's dishwasher safe because you already clean up after them enough. Comes in nine colors. Get the Yeti bowl here. ($49.99) (Note: This is an Amazon Affiliate link)
Natural Dog Soap: Washing a dog is so much easier with a pet shampoo bar compared to liquid shampoo. It frees up one hand to hold the dog, and it is easier to wash the underside of your dog – gravity isn't working against you and it lathers up really well. Two 3.5oz bar delivers the equivalent washing of 40.4fl.oz of liquid pet shampoo saving you money AND it's all natural, with NO plastic bottle waste. No need for conditioner. And it's a natural anti itch dog shampoo helps to soothe dog dry skin. Gentle enough to use as a puppy shampoo and conditioner. Get the Wash Bar on Amazon here ($16.49) (Note: This is an Amazon Affiliate link)
Harry Barker Market Dog Food Storage: Your dog's kibble just became cuisine, simply by pouring it from the unwieldy bag into this charming canister. Perfect for any décor, the simple and clean design adds a touch of panache to any dog's dining area (or your kitchen). Airtight lids keep freshness in and moisture and insects out. Available in three sizes. Shop on Williams Sonoma here. ($64-72)
MORE HOLIDAY GIFT GUIDES FROM MOMTRENDS
This is a sponsored post.