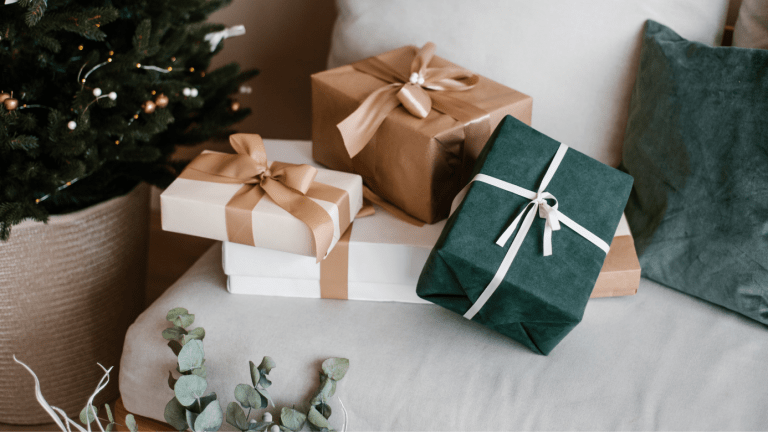 Best Holiday Gifts for Mom
Our top picks for mom that will show her that she's the glue that keeps the family together.
Whew, it's been a minute and the moms all need to be celebrated. This year they've taken on homeschool duties, non-stop meal prep and possibly trying to work from home. They've been isolated from friends and family and robbed of free time and self care. In a nutshell, moms need to be celebrated this holiday season. We've gathered our Best Holiday Gifts for Mom in an assortment of categories and for a variety of budgets. 
There is no better way to treat yourself (or your loved ones) this holiday season than with a custom makeup set that is completely customized to them!
trèStiQue Essential 8 Makeup Kits
After decades of dealing with complicated routines and heavy makeup bags, trèStiQue created a simple, hardworking, all-in-one kit that's perfect for moms. I've been using my Essential 8 makeup routine for over a year. Get a pretty, polished look in minutes. The formulas are so luxurious and glide on so smoothly because of the quality of the makeup. This giftable kit comes in a clever makeup bag that holds everything upright so products don't get lost. It has a built-in mirror and keeps everything organized and mess-free. It's the perfect gift for the multi-tasking mama (and yes, it is ok to gift it to yourself!)
If you are worried about picking the right shades, don't be! trèStiQue helps shade match you based on your photo and offers a free video consultation service to walk you through the process and customize your routine. Use promo code MOMTRENDSGIFT for 30% off $30 or more from now until Dec. 31, 2020. 
TERRITORY FOODS MEAL DELIVERY
Treat mom to some time off from cooking! Take the guesswork out of eating healthy with Territory Foods, chef-prepared, nutritionist-designed meal and fresh farm box delivery service. Territory's vast menu options vary by region and can be personalized to fit more than 10 eating preferences like Vegan, Low Carb, Paleo, Keto and Whole30. Territory meals begin at $9.95 and market boxes starts at $35 making them a great gift for a friend, family member or anyone in need of delicious, already prepared healthy food.
Head to www.territoryfoods.com to start gifting
CLARA SUNWOO LIQUID LEATHER JACKET
Up your fashion game in our Double Zip Detailed Liquid Leather Pocket Jacket! This is an essential layering piece for any woman who values both style and comfort--it looks like leather and feels like a knit. Check out how I styled it here. Featuring a notched lapel with upright collar, a rustic gold vertical zip closure with a double zipper detail, long sleeves, side pockets and pipe stitching throughout. Made from our beautiful signature stretch knit, this vegan jacket is extremely lightweight, has a "lambskin feel" with a soft matte finish. The interior is made from soft knit giving it the right amount of stretch and providing you with breathable superb wear.Purchase this elegant gift here www.clarasunwoo.com/collections/liquid-leather (starts at $179)
MIMEO PHOTOS WALL DECOR
Make Mom's favorite family moments the focal point of any room with Mimeo Photos' Wall Decor. From family portraits on soft canvas to the drawn out details of a landscape on polished acrylic, choose your preferred medium in sizes ranging from 8x10" all the way to a large scale 20x30" piece of wall art.
Creating a unique piece of wall decor is easy. Simply upload any image(s) that would spark joy for Mom directly on mimeophotos.com or through their app in the Mac App Store. Edit, adjust, even add text with a personal message directly onto a canvas, metal or acrylic wall decor piece. Mimeo Photos Wall Decor starts at $34.99. Head here to start create your very own wall decor gift.
KRONOS AIR PURIFIER
Special code for our readers: MOMTRENDS Discount: $50 off
This is the holiday to gift better health. Kronos ATI The new Kronos® AIR 5G® kills and removes 99.9% of bacteria and other harmful elements from your home. It gives 360 degree air flow circulation and runs completely silently, passing through 5 stages of purification to guarantee the cleanest air in your home or office. NO more need for HEPA filters. Cleans 400 sq. ft. room in 20 minutes ($599)
Gift better air at 1800safeair.com
DISCOVER LIVE (VIRTUAL TRAVEL EXPERIENCE)
Momtrends Readers Discount Code: FESTIVAL10
For all the travel lovers out there, this is the perfect gift. Since 2018, Discover Live has been virtually transporting families to amazing places around the world. Take Mom away during the holidays and let her experience Florence, Rome, Egypt, Venice, Paris, or Peru (and many other locations!). Via live, virtual travel she alone or with her family or other guests, will spend an enchanting hour traveling with one of our tour guides. Her tour will be private, personalized and engaging. The tour guide will customize the tour to her interests: art, history, culture, cuisine or just city life. You can also enhance the experience by enjoying food and drinks from the region you're touring. Mom will walk away with cherished memories as if she were actually there. Gift this amazing travel experience here www.discover.live
Maelove Serums Trio
Simple skincare is the trend right now. Maelove focuses on giving women the essentials to get a glow without a lot of effort. This trio offers mom three ways to pamper her skin. The Glow Maker has Vitamin C, E and Ferulic Acid and is the best tool for premature aging and to improve pigmentation. Our favorite (and a pick for our MVP Best Serums) is the NIA 10. This one is loaded with Niacinamide (Vitamin B3) to help with redness and diminish enlarged pores due to inflammation. Recommended for rosacea and acne prone skin. And finally, winter is no match for the Hydrator B5 serum. This one uses Hyaluronic Acid, Panthenol (Vitamin B5) and Resveratrol to give your skin a dewy glow. Gift the trio for $67 from Maelove 
PICTURES ON GOLD
This year build mom a Sterling Silver 2-Picture Heart Locket ($140.90). Start by choosing the metal and size. Then add a birthstone and upload photos. Pictures on Gold will engrave the photo directly onto the locket. Personalize jewelry is one of my absolute favorite things to gift. It's worn close to the skin and is imbued with meaning and nostalgia. This holiday, we are all looking to connect with loved ones in creative ways. Creating a piece with Pictures on Gold is the ideal gift for mom. Customize and create your 18-inch Sterling Silver Box Chain here.
Blundstone Boots
For over 150 years Blundstone has been making boots that are effortlessly cool. They go with everything from denim to dresses and are made to look better and better with time. Blundstone classic 1960 slip on boots have a bit of a heel and can be worn all day long. They are built to venture out in comfort. Get the Blundstone 1960 at Backcountry ($200)
Puka Tea
While you can't give mom a stress-free day, you can gift her pockets of zen with this gift from Puka Tea ($17). The set includes 5 Sachets of incredible organic herbal teas. Included are flavors: Supreme matcha green, Turmeric active, Elderberry & Echinacea, Ginger, Peppermint & Licorice, Night time, Lemon, Ginger & Manuka Honey and more. 100% organically grown and ethically sourced ingredients. Vegetarian, Kosher and non-GM. Puka is proud to be 1% for the planet. Shop the set on Amazon here. 
Win it! 
We're giving away an amazing bundle for one lucky mom valued at over $1000!. Our Momtrends Gift Guide Giveaway for mom includes:
One week's worth of Territory Foods lunches (valued at $75)
Clara Sunwoo Black Double Zip Liquid Leather Pocket Jacket ($189)
One Mimeo 8x10 Canvas Wall Decor ($34.99)
Discover Live 1-hour Virtual Tour ($199)
Model 5 Kronos Air Purifier ($599)
Pictures on Gold Build Your Own Sterling Silver 2 Photo Heart Locket. ($140)
Trestique Essential 8 Customized to winner ($220)
MORE GIFT HELP FROM MOMTRENDS
MORE FROM MOMTRENDS FOR THE HOLIDAYS
PIN IT!
Use Pinterest to save your favorite gift ideas. Be sure to follow our Holiday Recipes and Crafts board here.
The Holiday Gifts Guides are a mix of sponsored picks and Editor's picks, this post is loaded with affiliate links. When you purchase with our links, you support Momtrends.