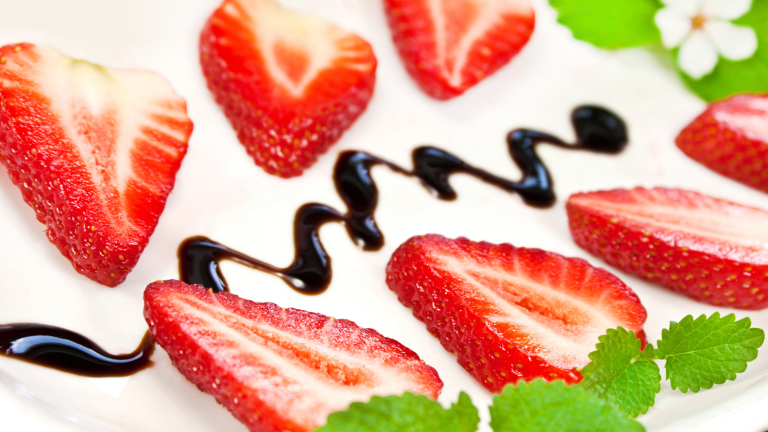 Berries with Balsamic Vinegar
Master a fun summer recipe that uses fruit and balsamic vinegar.
Why shell out $20 or more for a bottle of vinegar? It's all about taste. I learned to look for bottles that say "Aceto Balsamico tradizionale di Modena or Aceto Balsamico tradizionale Reggio Emilia"--reading labels assures you get the best quality. These bottles contain grape must that is aged at least 12 years allowing for the sweet, rich flavor--perfect for pairing with strawberries.

Related: Whip up a strawberry dream margarita
Berries with Balsamic Vinegar
If you haven't tried this pairing you are missing out. It's a easy mid-week desert that will please kids and adults. We simply drizzle cleaned and sliced berries with balsamic and let marinade a bit before serving, but if you want to get a tad fancier, here's a grand and healthy recipe from the Mayo Clinic.
Berries with Balsamic Vinegar Ingredients
1/4 cup balsamic vinegar
2 tablespoons brown sugar
1 teaspoon vanilla extract
1/2 cup sliced strawberries
1/2 cup blueberries
1/2 cup raspberries
Berries with Balsamic Vinegar Directions
In a small bowl, whisk together the balsamic vinegar, brown sugar and vanilla.
In another bowl, add the strawberries, blueberries and raspberries. 
Pour the balsamic vinegar mixture over the berries. 
Let the fruit marinate for 10 to 15 minutes. 
Drain the marinade. Refrigerate or serve immediately.
MORE STRAWBERRY RECIPES FROM MOMTRENDS
PIN IT!
Use Pinterest to save your favorite recipes. Be sure to follow our Recipes to Inspire Pinterest board here.
Momtrends was not paid for this post.