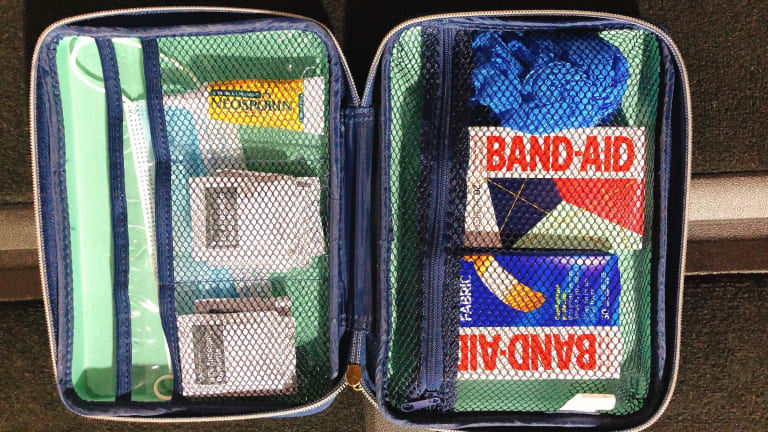 Be Prepared for Back to School with the Right First Aid Kit
Now that more kids are learning from home, parents are also serving as school nurses and need this handy checklist to make an at-home first aid kit.
I'm in full-blown back to school mode. Yep, it looks different this year, and that means I have a few more things to do on my mom checklist, such as being prepared for back to school season with the right first aid kit. Did you know that a majority of parents (53%) have been unable to care for an injury because they didn't have the necessary first aid supplies on hand. A well-stocked first aid kit can make a real difference.
Related: Get organized with Mabels Labels
Be Prepared for Back to School with the Right First Aid Kit
Now that more kids are learning from home, parents are also serving as school nurses. We need the right tools on hand to keep everyone in the family healthy. 
I recently inspected all of our car first aid kits and updated the supplies. Target has an offer with BAND-AID Brand right now, if you buy three 
Johnson & Johnson products, you'll get this cool first aid kit (while supplies last). Both of our cars have kits, and we have a more substantial first aid box in the house.
Get details on the Target and BAND-AID Brand offer here 
What First Aid Supplies we need
To help families prepare for any cuts, scrapes and wounds during this busy back to school season, below are some tips on building a custom first aid kit that is properly stocked and personalized to your family's needs. Here's a list to get you started.
Bandages in a variety of different sizes and shapes
Gauze dressings in small, medium and large sterile gauze dressings
Triangular bandages
Tweezers
Alcohol-free cleansing wipes
Sticky tape
Thermometer (preferably digital)
Skin rash cream, such as hydrocortisone or calendula
Cream or spray to relieve insect bites and stings
Antiseptic cream
Painkillers for children and adults
Antihistamine cream or tablets
Family First Aid Kit Tips
Essential Items: First aid kits should contain products that can treat your everyday cuts and scrapes, so you are ready for everything from getting a nick while shaving to when your child gets a scrape in the park. Essential products for these situations are antibiotic ointment to help prevent infection and adhesive bandages to cover and protect wounds from dirt and germs, such as decorated BAND-AID® Brand Adhesive Bandages with kids' (and adults!) favorite characters—from Planes to Doc McStuffins. For more serious injuries, always keep items such as gauze, first aid tape and a first aid guide on hand.
Customize Your Kit: It's best to tailor your kit to fit your specific needs. For example, if you love to garden, you'll want products that help treat itching from bug bites or rashes you may receive from certain plants, as well as tweezers for splinters. And if you love to cook, you'll need products that are waterproof and ones that can help treat minor burns.
First Aid On-The-Go: Since 43% of accidents happen when you're away from home, it's also important to keep an on-the-go first aid kit on hand. For these, it's best to have first aid products that are easy to transport, like NEOSPORIN NEO TO GO!.
Keep It Current: Once you have a first aid kit, it's important to check the contents regularly for expired products and also make sure you haven't depleted any products. Make sure to check the contents every six months, around the same time that you're changing your clocks and checking the batteries in your smoke alarm.
PPE for the Home: Stash a few pairs of rubber gloves and masks in all your first aid kits. For mask resources, head here. 
MORE BACK TO SCHOOL ORGANIZATION FROM MOMTRENDS
PIN IT!
Use Pinterest to save your favorite recipes. Be sure to follow our Back to School board for more tips
Momtrends was not paid for this post. 
For even more Momtrends, follow us on Facebook, Twitter, YouTube, Pinterest and Instagram