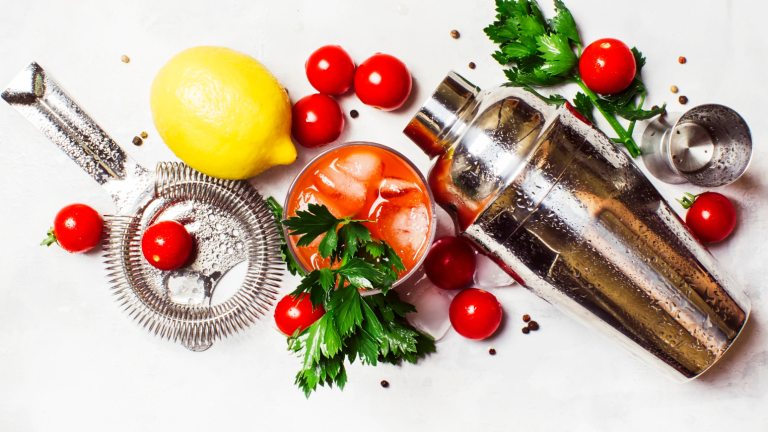 Bagels and Bloody Mary Bar Party
Gather your guests for an experience to remember with a fun and casual brunch serving up a bagel bar and customized bloody Marys.
Creating a fun and entertaining fete doesn't have to be time-consuming or boring. Add personality to your party with a classic theme, a spicy cocktail, and plenty of conversation. Gather your guests for an experience to remember at this bagels and bloody Mary party. It's a fun idea for Mother's Day, a birthday or just an everyday celebration.
Related: Thai inspired Bloody Mary
Throw a Spicy Bagels and Bloody Mary Party
1. Plan the menu. When you have a themed party, it can be a big time saver. No need to fine tune an elaborate recipe! It's also easy to focus on what you're serving and get creative. Since this party calls for bagels and bloody Marys, the menu is basically set. Brainstorm fun ideas to involve your guests, like this DIY bar set up.
Consider variety with toppings like capers and cream cheese. Bagels don't have to be boring. Add a touch of class with lox and flavored cream cheeses. If you want to be SUPER authentic, order from our favorite NY deli (they ship) Russ & Daughters.
Allow guests to customize their bagel and offer plenty of napkins, plates, and knives to spread cream cheese. Try melamine plates since they are durable and come in a variety of colors.
This menu is simple enough to be no fuss, but it has room for creativity. It also lends itself to a fun Sunday brunch idea, a patio party, or even a bridal or baby shower. Yet, the star of the show will hopefully be a crowd favorite.
2. Create a specialty cocktail. The best parties I have attended or thrown had one thing in common: a fun twist on an old favorite. Allow guests to mingle while they customize their drink.
Let's reintroduce the bloody mary. Everyone has their favorite garnish or additions to this traditional drink. Whether you create yours with gin or vodka or you use tomato juice or a pre-made mix, it's a fun drink that has room for individuality. These bloody Mary garnish ideas should give you inspiration to create your own bloody Mary bar at your next event.
Will you add hot sauce and Worcestershire? 
Do you like olives or a giant celery stalk in yours? 
Bloody Mary Bar Ideas
3. Set the scene. Elevate certain pieces of your bar to add dimension and make it easy to reach food and drinks.
4. Don't be afraid to pre-mix your cocktails. While DIY bars are fun, a party hostess can simplify the process for guests by preparing the drink ahead of time. Use a glass drink dispenser, like this one from Aladdin. It's durable and looks pretty cute. It's certainly a conversation starter at any event.
Ready to make your drink? Just pour.
Add a garnish (or several!).
And, of course, enjoy.
To pair with the everything bagels at this party, I name this drink the Everything Bloody Mary. What's inside? Well, everything!
Bloody Mary Garnish Ideas
This tray from Target is no-slip, so you don't have to worry about your drinks or items moving around when you carry this. Now that's smart party planning. Use trays and mason jars to display your garnishes. Small dipping bowls can double as topping holders as well.
Season shrimp ahead of time with Old Bay to serve as an appetizer or a cocktail garnish.
Use a vegetable peeler to slice a cucumber. Roll each slice up and add a toothpick to hold.
Use a variety of olives (a bloody Mary must-have!) for additional tastes. These are seasoned with basil.
Try a slice of bacon with celery and olives.
Want something more refreshing? Try asparagus and cucumber to cool off.
Feeling brave? Try a Michelada and use Mexican beer with spicy additions like hot sauce, sriracha, or soy sauce.
So, how do you dress up your parties? How do you dress up your cocktail? 
MORE FUN SIPPING IDEAS FROM MOMTRENDS
PIN IT!
Looking for more entertaining ideas? Check out the Momtrends' Wine Time on Pinterest!