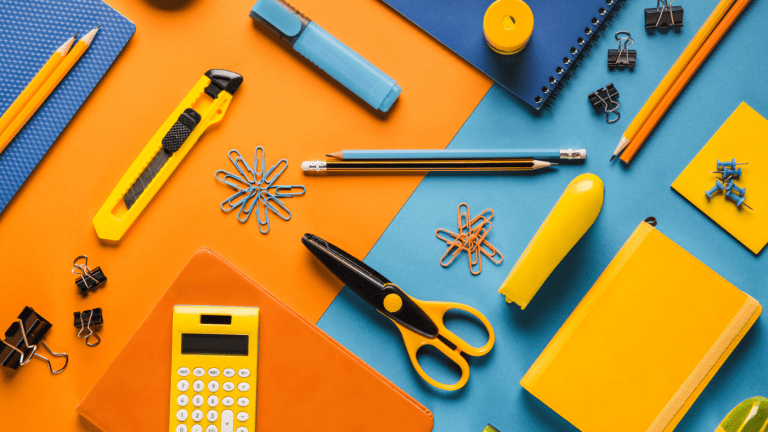 Trendy Back to School Essentials
Help to close out the summer right and set the right tone for a great transition to back to school.
With the kiddos heading back to school soon, we have been searching for some fun ideas to set the tone for a great transition into fall. Whether you're looking for ways to make the most out of the remaining summer season, getting ready to head back-to-school, prepping for a busy work season or just looking to regroup and set some positive intentions, these three brands have you covered. 
Related: Pack a cool school lunch
Savor the last moments of the summer season
The end of summer can feel a little bittersweet, so it's important to make the most of it while the weather is still great. For most of us, the weather gets even lovelier as summer comes to a close, so take the opportunity to spend as much time outdoors as possible and eat al fresco as long as you can. 
To beat the heat and make mealtime even more fun, indulge in one of my favorite treats that's sure to be a fan favorite for the whole family: Drumstick Mini Drums! Drumstick, America's Favorite Sundae Cone, is now available in bite size making it a perfect anytime snack at only 70 calories per cone. Each micro-mini cone is perfectly snackable, and still features the delicious taste you've come to love with Drumstick, like the crunchy chocolate outer coating, the luscious creamy vanilla center and the crispy waffle cone. These mini but mighty, small but snackable and perfectly poppable Mini Drums are bound to be a new household favorite all-year round!
Momtrends Tip: Enjoy these last warm days and grab your favorite lawn game and a Mini Drum for an outdoor family game night.
One Last Movie Marathon
When it comes to snacking, there is nothing more convenient and delicious, ready-to-eat popcorn from Popcorn Indiana has even more taste now for the perfect snack between meals, or simply an evening treat to enjoy with friends and family. At 150 calories per serving, this is a perfect flavorful treat for mom.
And kids love Monster Pop popcorn – it's full of flavor and made from all-natural ingredients, all while being a healthy choice (that Moms will approve of!). And Popcorn Indiana added more delicious flavors like Kettlecorn, Black & White Drizzlecorn, Movie Theater Butter and Aged White Cheddar.
Momtrends Tip: This weekend Syfy is running a Harry Potter Marathon. Why not grab your popcorn and set up the movies outside!
Colorful Organization Projects
Our lazy summer days transition into bustling fall schedules of homework and studying very quickly. Duck Brand has so many great products to help parents and also teachers stay organized this school year. Duck Tape and EasyLiner provide simple and inexpensive ways to add flair to school gear, label supplies, and offer versatile solutions to a variety of back-to-school projects around the home and classroom. Also, our family is big into crafting and my girls got so creative over this summer, so these really help encourage that creativity as the school year progresses.
Momtrends Tip: Start scheduling family reading hours now. Time when the whole family is unplugged. This will make the transition to back to school much easier. Craft this fun bookmark with Duck Brand tape to save your page.
MORE BACK TO SCHOOL ORGANIZATION FROM MOMTRENDS
PIN IT!
Use Pinterest to save your favorite recipes. Be sure to follow our Back to School board for more tips