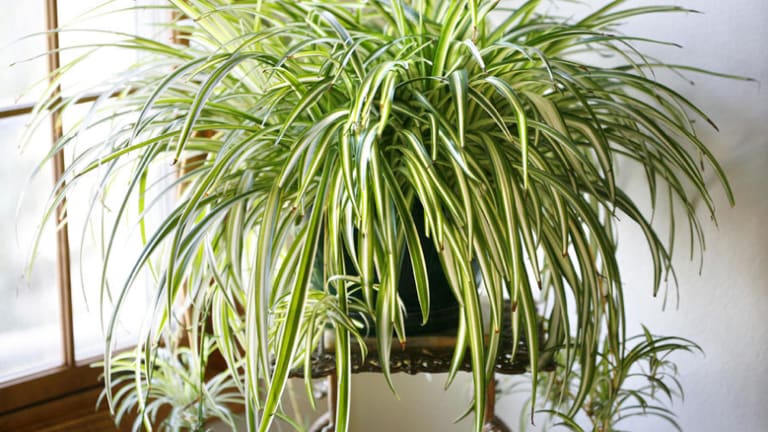 Aromatic Plants That Help You Breathe Better
Indoor plant suggestions to add beauty and living color tp your home and help you and your little ones breathe easier.
We all want the best for our kids. Our kids have too many toys, the latest clothing trends, and probably more lost socks and hair bows than we can count. While we strive to keep our homes (somewhat) tidy, there's still a lot that we can do when it comes to the air we breathe.
Related: Why you should consider going shoe free at home
Wax melts and air fresheners will help mask the odor coming from your son's sneakers, but they can't do much to help you breathe. Indoor plants are a great addition to any home. They add beauty and living color and help you and your little ones breathe easier. Consider adding these aromatic plants to freshen the air.
Six Houseplants to Improve the Air in Your Home
Bamboo Plant
Add a touch of the tropics to your home with a bamboo palm. This calming plant, also known as the reed palm, is fantastic at purifying the surrounding air. It features multiple fronds of delicate palm leaves and will grow well in the right conditions. For best results, place it on top of a dresser or bookcase that gets indirect sunlight. Keep the soil moist, but not too wet. Move it to a spot on the floor or in an entryway as they can grow up to 12 feet high and 5 feet wide in ideal conditions. Be aware of house plant insects, including mites, that can hide on the underside of the leaves of this plant.
Mother in Law's Tongue
Sometimes called a snake plant, we like to refer to it by its other name: mother-in-law's tongue. This helpful addition to a home is an excellent choice for beginning gardeners. It is among the hardest plants to kill (much like the unwanted comments of a mother-in-law) and is often found in bathrooms (no further comment).
It likes low light and plenty of humidity to help remove chemicals such as xylene and trichloroethylene from the air. These plants also do well in bedrooms since they release oxygen at nighttime when other plants aren't active. Although it's rare, mother-in-law's tongues can produce aromatic flowers. The white and cream-colored buds resemble those of lilies. Care for this plant by keeping it in a pot and dividing it up into smaller pots if it becomes too large.
Aloe Vera
You may have a bottle of aloe vera gel in your medicine cabinet, but did you also know that you can grow it as a houseplant? It's a great low maintenance plant that needs little attention (which is good because we are fresh out of that!) It also helps clean the air. Aloe vera is an excellent succulent choice since you can use the liquid inside the leaves to soothe those occasional cuts and burns. It combats formaldehyde and benzene found in many cleaning products as well.
Mums
Chrysanthemums do more than add color and a nice scent to your home. The blooms remove toxins including cigarette smoke, benzene (found in paint, glue, and detergent) and formaldehyde and ammonia (used in cleaning products.) They come in a variety of colors, so they're sure to match any home decor. Place these plants near a window sill or somewhere where they'll get plenty of light.
Peace Lilly
Known as a powerful air cleanser, the peace lily is a welcome addition to any home looking for a touch of elegance. It's a more-formal-looking plant that helps increase the humidity of a room. This is a great addition to the bedroom of a child who's battling night coughing or allergies as it helps fight against microbes. The plant is toxic, though, so make sure only to use it in an older child's bedroom who will leave it alone.
Spider Plant
This variegated beauty features green and white slender leaves that cascade up and over a container. Place a spider plant in the dead space above the kitchen cabinets or in a hanger by a window. Spider plants are easy to care for and don't need much attention. They love the light but don't want to be in direct contact with the sun. They'll add color to every room and can help absorb carbon monoxide, a deadly poison.
Adding indoor plants to your home is a great way to boost the appearance of your home as well as fight off chemicals and irritants within the air. Choose from a wide variety of sizes and styles that best fit your style and your family's specific needs. Consider adding any of these aromatic plants that help you breathe better to your home for a boost of health benefits.
More Ideas to Live Better from Momtrends
Pin it!
Use Pinterest to save your favorite ideas from Momtrends. Be sure to follow your Home Syle inspiration board here.
Article written by Lucy Crawford, a home design DIY writer and mother of three. With her busy hands, she is always challenging herself with a new DIY project. She enjoys designing spaces where she can relax and enjoy a good book.