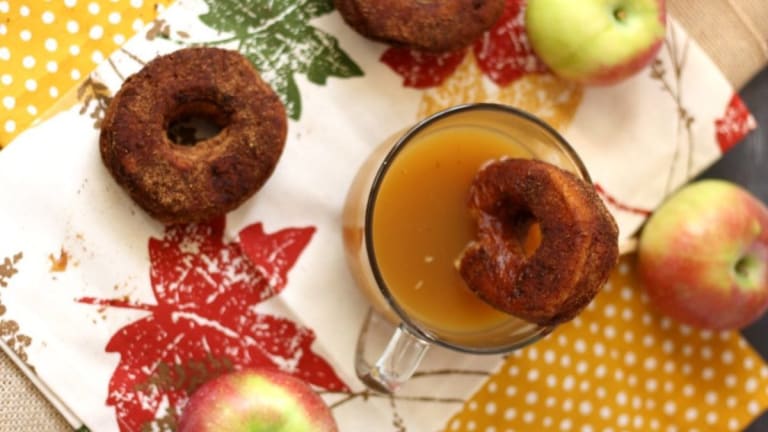 Apple Cider Donuts Recipe
The perfect fall recipe: Apple Cider Donuts. Just like you would find at the farm!
It's my favorite time of the year: fall! As soon as I hear that my local pick-your-own farms have apples ready for picking, I pack my family up and we are in the orchards. I just adore the smell of the apples. This time of the year really evokes feelings of being warm and cozy. It's pure comfort.
Related: Apple picking season
A lot of the local pick-your-own farms have some great activities for the kids like playgrounds, pedal bikes, animals and pony rides. Even to this day, my kids look forward to the hay rides through the farm. Let's not forget all of the delicious food! Our favorite? Apple cider donuts!
My kids have been asking me to recreate their favorite farm fare for ages now. Donuts have been a recipe I just haven't wanted to give a try. But, then I saw some baking hacks where you can use canned biscuits and make them into donuts! After several attempts and playing around with different combinations, the kids let me know I did it!
Apple Cider Donuts Recipe Ingredients
Makes 8
1 cup apple cider
1 cup granulated sugar
2 teaspoons ground cinnamon
1 (16-ounce) roll refrigerator biscuits
Vegetable oil
Apple Cider Donuts Recipe Directions
To make the donuts, separate the biscuits on a flat surface. Cut out the centers of each biscuit with a small round cookie cutter.
Heat about an inch of oil in a heavy-bottomed skillet over medium high heat.
Fry donuts about 3 at a time, do not crowd the pan.
Fry until the donuts are a golden brown color, about 3-4 minutes on each side.
Transfer to paper towels to catch excess grease and let cool.
While donuts are cooling, make the cinnamon sugar. Whisk together sugar and cinnamon in a bowl the same size as the donuts.
Once donuts have cooled, pour apple cider into a shallow bowl.
Dip each donut into the apple cider and then coat both sides with the cinnamon sugar.
Lay flat on a wire rack to shake off excess.
Enjoy with a mug of apple cider!
One of our favorite ways to enjoy Apple Cider Donuts is by dunking them right into some delicious fresh apple cider!
What's your favorite thing about Fall?
MORE SWEET TREAT IDEAS FROM MOMTRENDS
PIN IT!
Use Pinterest to save your favorite recipes. Be sure to follow our Sweet Treats board here.
This is not a sponsored post. All opinions are our own.