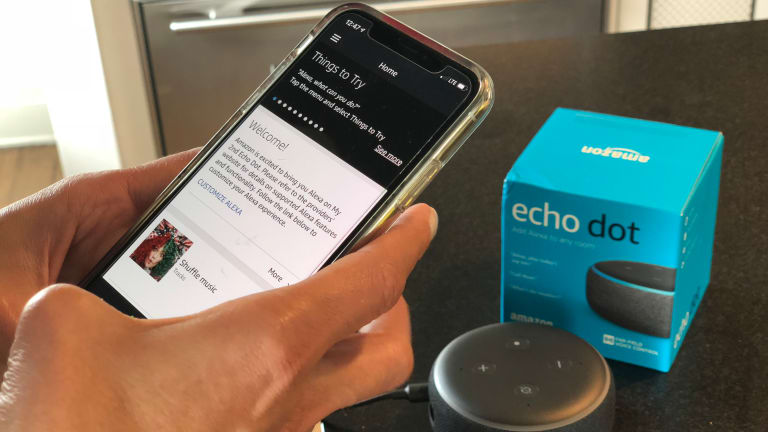 Publish date:
An Echo in Every Room
Life at home has become much easier and more streamlined now that we have our own personal assistant. She's smart, she's savvy, and you'd hardly know she's there--she takes up such little space--seriously, just a wee bit of counter top is all she needs. Yes, we've come to rely on Alexa, and our new Echo Dot is making her even more helpful and efficient. And at just $49.99, we're thinking about giving just about everyone the gift of a handy-dandy Echo Dot this upcoming holiday season.
The latest generation of Amazon's Echo Dot, the popular voice-controlled speaker, features a slightly altered design and significantly enhanced speaker and sound. It allows us to effortlessly multitask; we just ask Alexa to play music, answer our burning questions, read the headlines, check the weather, set timers and alarms, and sync compatible devices to adjust the thermostat, turn on lights, lock doors, and do more. We can even call and message hands-free or make an announcement to every room with compatible Echo devices.
Alexa is always learning and adding new skills to her already impressive resume--she now can track fitness, play games, and tell jokes. At a recent Amazon preview, we asked Echo to tell us a joke and she delivered with sass and punch! (Stay tuned for our video--yes, she's got a sense of humor to boot!) 
What's more, we're loving the amazing Amazon Fire TV Stick. Paired with your Echo, you can use voice commands to browse, search, and control what you watch on Netflix, Hulu, and other apps and streaming services. You can access over 500,000 movies and TV episodes with the Fire TV Stick. That's a lot of binge power in one small accessory--big things sure do come in small packages this holiday... And we're excited to share the gift of convenience with Echo this season!
We' also happy to spread the word that customers can now donate a toy to Toys for Tots via Alexa simply by saying, "Alexa, donate to Toys for Tots." Amazon will be matching customer donations throughout the end of the year – toy for toy – doubling customers' contributions.
This is not a sponsored post. Samples were received.