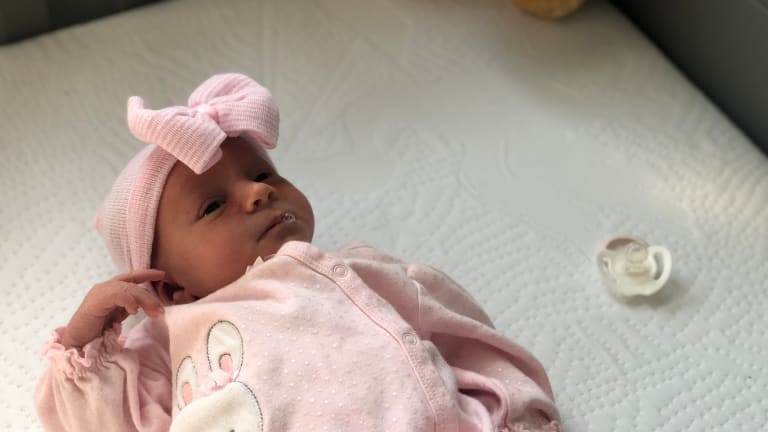 Bundle of Dreams: A Safer, Healthier, and More Comfortable Crib Mattress
I love sleep... I need it. I crave it. I daydream about it. And I want my kids to value it too. 
As a mom, I may not always get as much restful snooze time as I'd like, but I try to make the most of the limited zzz's I do get. And that starts with ensuring that my three kiddos get quality sleep. Because, let's face it, well-rested kids are happier kids. And happier kids make for happier days and happier parents. (Yes, it's just one big happy snooze fest!)
Still, getting my six and four year olds on a regular evening routine took some time and effort. We still have the occasional, bedtime battles but once they're settled and tucked in in, it's only a matter of minutes before their soft-breathing snores begin.
When I got pregnant with my third, I knew I'd, once again, lose precious hours of sleep. But I decided that instead of dejectedly facing that exhausting fate, I'd try to do everything to ensure my new little one would be cozy, comfy, and coddled at bedtime--that we could promote an environment conducive to sleep. That means swaddling, white noise machines, and pacifiers . 
At just seven weeks old, my little one still sleeps in my bedroom at night. But I've been putting her in her crib for daytime naps to get her adjusted to her own room and bed. And let me tell you that mattress of hers is an absolute dream--a bundle of dreams, that is. (I have all I can do to stop myself from climbing in there with her!)
I knew I wanted to get her an organic mattress, but didn't want to compromise comfort.  When my older daughter was born, I had gotten her one that, frankly, felt like egg-crate foam. Suffice to say, it wasn't particularly cozy, and,, while I felt good about its pure, organic materials, I do believe her sleep suffered. That's why when I first felt the Bundle of Dreams mattress, I was totally sold. It's the best of both worlds.
The Bundle of Dreams mattress is made with a baby's health and safety as top priority. But, unlike other organic mattresses we've tried, the comfort quality isn't sacrificed for these high standards. Memory-technology and bundle fiber gives the mattress a perfectly firm feel with a super soft touch. It's beyond delicious.
The aforementioned bundle fiber allows complete air flow and breathability; combining health, cleanliness, and eco-friendly awareness into one perfect mattress that promotes a comfortable night sleep and emphasizes the importance of a child's development. The organic 100% breathable cotton cover is made with an eco-friendly shield to repel water and other infant messes. It can be unzipped for easy-breezy machine washing.
What's not in the mattress is just as important as what is; the Bundle of Dreams mattress is made without ozone depleters; mercury, lead, and other heavy metals, formaldehyde, phthalates PBDEs, TDCPP or TCEP ("Tris") flame retardants--so worried moms can rest easy, too. Everyone will sleeping like a baby thanks to Bundle of Dreams.
This is not a sponsored post. A sample was provided. Please be sure to place Baby in an empty crib for sleep andor when unsupervised free of blankets, bumpers, stuffed animals, etc.