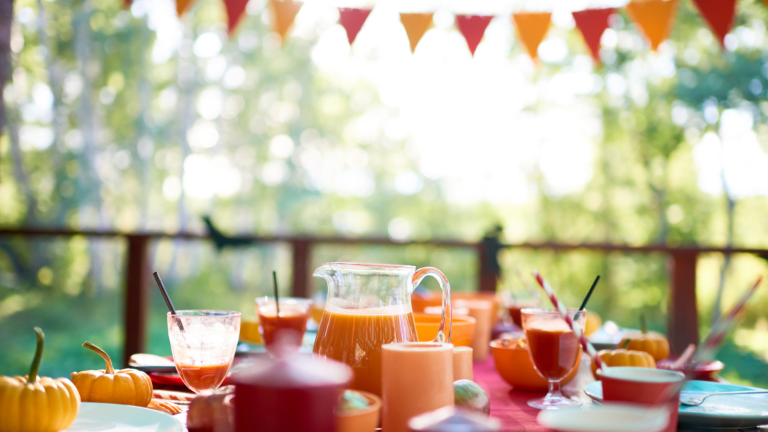 3 Spooky Sips For Your Halloween Bash
Hosting a Halloween party this year? We've rounded up some of our favorite crowd-pleasing punches with a spooky twist.
Hosting a Halloween bash this year? Whether you're planning a full on party or just hosting a few families for pizza before heading out to trick-or-treat, we've rounded up some spoooooky adult sips that can serve a crowd. Because no one wants to be stuck in the kitchen mixing individual drinks - that could turn someone into a monster! ;)
Related: Our favorite Halloween treat bags
Spooky Sips For Your Halloween Bash
While there are some scarily good cocktails that are ideal for a small scale Halloween dinner such as this Sweet Poison, Risen From the Grave or Black Velvet), if you're hosting a larger group or just want something you can make and forget, a punch is the perfect solution. Here are three Halloween-themed punches sure to scare your guests into a second glass.
As a side note, this scary ice hand is a must for any of the cold punches. Take a talc-free medical glove and fill it with water. Tie it shut and freeze. Once completely frozen, peel off the glove and your are left with a cold, creepy punch ice cube.
Bloody Black Currant Punch
This punch is nearly black, you guys! Easy to make and not too sweet - you have to leave room for your fair share of M&Ms and Jolly Ranchers! - it's the perfect compliment to a spooky Halloween tablescape.
Mummy Likes Mulled Wine
Was it mummy or mommy? In either case, this mulled wine recipe is perfect if the weather is chilly on Halloween night. I like this super simple recipe from Ina Garten. Dump everything into a pot on the stove and stick a ladle and hot drink cups by the side.
Creepy Caramel Apple Punch
Looking for something a bit lighter? The directions for this cider-based punch suggest serving it cold, but I think it would be just as yummy warmed - either way the cider and rum combo will warm your belly and raise your spirits.
Witches Brew
This can be a mocktail or cocktail. The lime gelatin mix gives it a tart punch, while cucumber-jalapeño juice kicks things up a notch. Together, the spice, lime, and ginger ale helps this mocktail resemble a margarita--without the tequila, of course. But you could easily add tequila or vodka for those who are drinking.
Get the recipe and ingredients here.
WANT MORE HALLOWEEN FROM MOMTRENDS?
PIN IT!
Be sure to follow Momtrends on Pinterest and for more spooky inspiration follow our Halloween and Thanksgiving Boards here. 
We were not paid for this post.