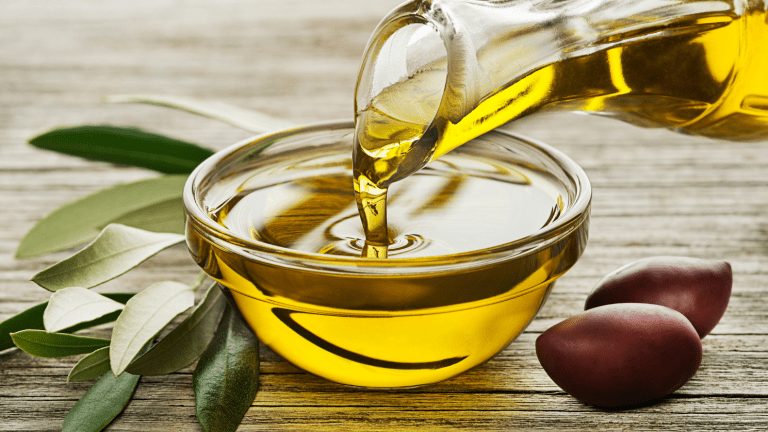 12 Ways to Use Olive Oil to Improve Your Diet
We can't get enough EVOO, and we're sharing a dozen ways to use this kitchen staple to enhance your meals.
I love cooking with olive oil for dinner and really anything pan fried, but I learned about its benefits as well as new recipe ideas for entertaining. Olive oil is rich in mono-saturated fatty acids and a variety of compounds including polyphenols and flavonoids, which have significant anti-inflammatory properties. It is also a good source of iron, dietary fiber and vitamin E (a fat-soluble antioxidant). Some studies have show that it has a beneficial effect on ulcers, can help with menopause and reduce the severity of asthma, osteoarthritis and rheumatoid arthritis.
Related: Healthy sweet potato pancakes recipe
That combined with it rich taste that it brings to food makes olive oil the perfect addition to numerous dishes. What I found unexpected is that olive oil can be enjoyed in recipes from appetizers to main dishes to cocktails. Here are a few of our favorites:
Healthy Diet 12 Ways to Use Olive Oil
It may start with just a drizzle of a flavor, but olive oil will soon become an obsession. There's nothing else in your kitchen quite as versatile.
Drizzle on food — whether over a prepared dish or simple sliced vegetables — to add a rich mouth feel and robust flavor, and balance acid.
Drizzle onto hot foods to release an oil's aromatic qualities, turning a meal into a multi-sensory experience.
Make a dressing for salads or other dishes.
Olive oil accentuates the aromas and flavors of fresh herbs and ground spices.
Preserve roasted and grilled vegetables for days by submerging in olive oil and storing in a cool place; they'll last even longer if frozen.
Fry unafraid; olive oil has a high smoke point, and can even handle deep frying.
Use it instead of butter, and not just on bread.
Try it IN bread, and cakes, and muffins, and even oatmeal.
Pair oils just as you would wine, adding robust oils to complement hearty or spicy dishes, and lighter oils for milder preparations.
Think outside of the Mediterranean.
Olive oil can liven up a ceviche, handle an Asian stir fry, and embolden the humblest pea soup.
Olive oil makes a very nice moisturizer for dry skin, as well, but we've known that for millennia. And it can even be used in...

Spiced Green Olives:
Makes 3 cups
2 cups (10 ounces) green olives (with pits) in brine, such as Picholine or Cerignola, lightly smashed to crack open slightly
2 teaspoons cumin seeds
2 teaspoons coriander seeds
4 garlic cloves, peeled and sliced
1 teaspoon paprika
½ teaspoon cayenne
3 thyme sprigs
1 orange halved and thinly sliced
1 tablespoon harissa paste
1/4 cup extra virgin olive oil
Spiced Green Directions
Toast cumin and coriander in a dry skillet over medium heat until the spices begin to color a bit. Coarsely grind in a spice mill or mortar.
Mix the olives with the cumin, coriander, garlic, paprika, cayenne, thyme, orange, harissa paste, and olive oil.
Let the olives marinate for a couple of hours. They'll keep for a week in the refrigerator.
MORE FALL RECIPES AND DRINKS FROM MOMTRENDS
PIN IT!
Be sure to follow Momtrends on Pinterest and for more spooky inspiration follow our Halloween and Thanksgiving Boards here. 
Momtrends was not paid for this post.