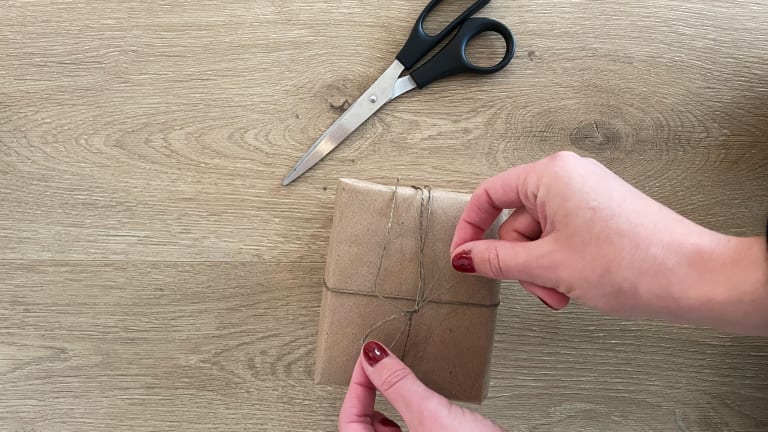 10 helpful frugal ways to wrap your holiday gifts
Get the kids busy today creating home-crafted wrapping with these ideas.
Home decor and gift giving expert, Sandy Sandler, has frugal tips for wrapping your holiday gifts. Sandy (founder of non-profit Crafters 4 Kids and creator of the best-selling Bowdabra bow maker) is saving us all a trip to the mall to buy wrapping paper. Get the kids busy today creating home-crafted wrapping with these ideas.

Related: How to create chic sustainable holiday gift wrapping
10 helpful hints to wrap your holiday gifts frugally and creatively
Use scraps of fabric to wrap presents: tie them up with the ends like they do in Asia or use silk ribbon that has a long regifting life. Furoshiki are traditional Japanese wrapping cloths used to wrap and transport all sorts of objects from a bento box lunch to a special gift.
Paper bags or craft paper can be jazzed up as great gift wrap: First wrap the gift and then decorate. This is a great way to decorate grandparents' gifts. Have your children place their hands in washable paint and decorate the package with their hand prints. *Helpful Hint* Instead of wrapping paper, recycle brown paper bags, when you wrap the present use double stick tape and work the extra seams into the pattern.
Sweet wrap using an ice cream container: Decorate with rope, colored duct tape, ribbon, or silk flowers. Not only is this a great gift wrap, it's a wonderful keepsake box!
Don't have enough of one wrapping paper to wrap an entire present? Make a mosaic of wrapping paper. Embellish the seams of the wrapping paper with ribbon, beads, or colored duct tape.
Instead of buying pre-made bows make your own! Sandy invented the Bowdabra to make beautiful affordable bows. For an additional frugal element, you can even repurpose scraps of different ribbon to create a unique bow.
Make your own gift tags from last year's Christmas cards: Embellish the gift tags with buttons, candy, scraps of ribbon, or glitter. (remember to save this year's cards!)
For a very large present purchase an inexpensive vinyl tablecloth or remnant fabric, or even a tied pillow case: During the holidays inexpensive vinyl tablecloths are very easy to find. Place your large gift in the center of the tablecloth and wrap the way you would a normal sized present.
Wrap presents in children's artwork: This is great gift wrapping option for children and young adults and is a gift in itself for those receiving the presents.
Consider alternative sticking elements: Try using glue dots or colored duct tape.

"Gift wrapping does not have to be an expensive tedious process," Sandler says. "A little imagination and love is all that is needed." Happy wrapping everyone.
MORE FROM MOMTRENDS FOR THE HOLIDAYS
PIN IT!
Use Pinterest to save your favorite gift ideas. Be sure to follow our Holiday Recipes and Crafts board here.
Momtrends was not paid for this post.