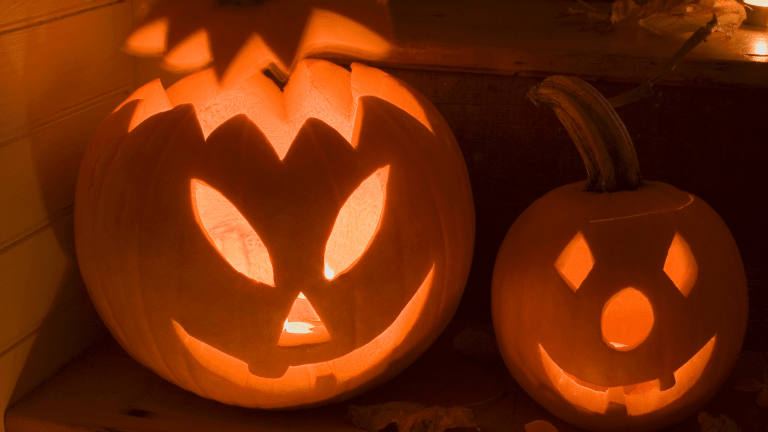 10 Budget-Friendly Ways to Decorate Your Home for Halloween
Put together fun, spooky, even elegant decorations for Halloween that will make the outside of your house pop.
Sure, some people go over the top with multiple inflatable and screaming Halloween decorations but let's remember: it's not a competition! You can put together fun, spooky, even elegant decorations for Halloween that will make the outside of your house pop without breaking the bank!
10 Budget-Friendly Ways to Decorate Your Home for Halloween
Scarecrows can do more than scare crows away. From a friendly face that is holding a bucket of candy, to a blood and gore scarecrow, complete with guts spilling out, there's always a way to take this ubiquitous sign of fall and jazz it up for Halloween. You can make one by stuffing old clothes with hay. After that, how you proceed is entirely up to you! TIP: Sausage links with fake blood make good spilling guts! Just don't let the dog eat them!
A countdown to treat day! With some wood and paint, you can set up a sign on your porch that you update every single day, with a countdown to the big day! Just use chalkboard paint for the part you're going to update! The neighborhood kids will love the reminder and you'll probably be their first stop on their search for the best goodies in the area!
Friendly Ghosts. But these ones are! If you have a tree on your front lawn, hang a dozen or more ghosts, so that they flutter in the wind. A white balloon with the face painted on and gauze hung over it for the flutter effect is all you need! You can hang these from porch railings too, as well as around your door, for extra effect. Another great option is to get a stack of witches hats at the dollar store and hang them all over, with a glow stick attached in each! You can light the path to your front door and a basket of treats in style!
Lead the way with spooky lights. Using lanterns made from plastic jack-o-lanterns and glow sticks or battery operated tea light candles is just one way you can light your path from the street to your front door for Halloween night! Whether on the ground or hanging from small hanging posts, you can be sure that all the local ghouls and goblins can see their way to your door safely. You could also use paper bags with a base of sand to weigh them down and creepy cut outs. Add a battery tea light!
Make a parking lot for broomsticks. With a stack of old brooms and some fishing line, you can hang up the brooms at various heights and add a sign: "Witch and Warlock Parking Lot". You'll get a few giggles as people go by, that's for sure! Add a few bats hanging down, a huge spider web and a ghost or two, for extra effect!
Paint your pumpkins. While carving pumpkins is the more traditional route, you can have a little fun with paint and props too! A pumpkin painted black can become a cat with huge gold eyes and two black felt ears in no time! A pumpkin turned with the stem forward can be painted to look like a witch! Add a hat and you've got a great look, with the stem being the nose! Or how about a group of 'spa-kins', where your pumpkins are painted as if they're having a mud mask, topped off with a towel for a funny look that will get smiles in the neighborhood. Go elegant and paint a night sky reminiscent of Van Gogh's 'Starry Night'. Your pumpkins don't have to be spooky to be fabulous! If you're giving away allergy free treats, make sure one of your pumpkins is painted teal! It let's trick-or-treaters and their parents know that your treats are okay for them! If you still would rather carve than paint, an option to keep it simple is to draw out the face you want and drill holes—a medium sized bit should do it—in a dotted line. This lets the light shine through and no one gets hurt weilding a knife! You can even buy a lot of small pumpkins, drill out one letter per pumpkin and set them up to spell something like 'BOO' or 'Trick or Treat!' You can also carve AND paint. After all, who said jack-o-lanterns had to be orange? Silver, black and white are spooky and elegant, at the same time.
Wreaths aren't just for Christmas. How about black and red feathers or ribbons and plastic eyeballs for a fun wreath on your front door? The more eyeballs, the better! Or white gauze and a mass of plastic spiders? Spray paint a store bought wreath made of twigs or grapevine black and add some spooky crows, bats, giant spiders or perhaps a rat? How about hot gluing plastic snakes to a wreath shape? That would get anyone wriggling! Add a sign across it with a spooky idea, like "City Morgue"... Your visitors won't know whether to step inside or run and hide!
A whole new type of window treatment. A jack-o-lantern in your front window, with a battery operated 'candle' is a fun idea, as is cutting out shapes from black, white and gold paper to tape up to the windows! Bats are a great shape, as well as ghosts, cats and With a light behind them, the'll look spooky and cool at the same time! Another great option is to use old jars and some black paper cut outs to make fun jack-o-lantern style faces. Add a battery operated candle in each and your windows will glow! With black spider webs in the corners, the spook factor will go up another level.
Put your bushes to work for you! If you've got a lot of bushes in your front yard, one fun addition is to take empty paper towel rolls, cut differently shaped eyes out of them and put yellow and green glow stick inside. Then tuck these into the front of your bushes and your visitors will think that something is watching them!
Project creepy light and fog. Get an orange bulb for an outdoor light fixture that will project on to your front door. With a range of other flying objects like ghosts, bats and witches brooms, you will add a lot to the creepy look, just with the color enhancement. On the big night? Add some pots of dry ice in various spots, to add an eerie fog and make the effect of your decorations that much more spooktacular!
However you dress up your house, have a little fun this Halloween!
This is not a sponsored post. Tips by Rhianna Miller, outdoor design expert with https://rubbermulch.com/.
Want more from Momtrends?
PIN IT!
Be sure to follow Momtrends on Pinterest and for more spooky inspiration follow our Halloween and Thanksgiving Boards here.