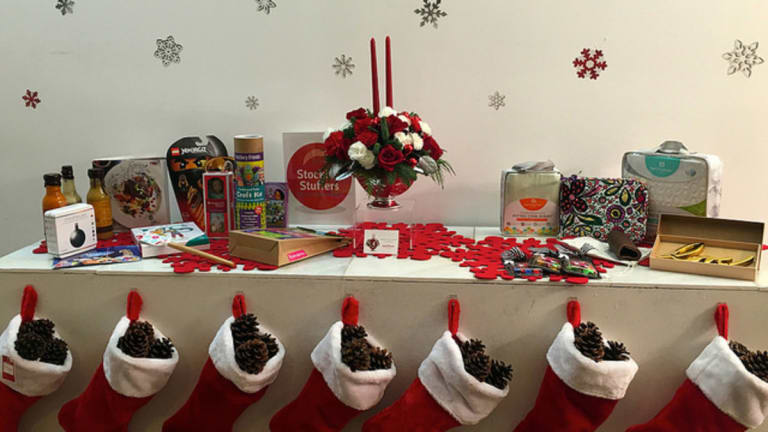 'Tis (Almost) the Season: Inside the #MTHoliday Soiree 2015
We're in a bit of a blogging conundrum here at Momtrends. You see, as moms, we want to experience and enjoy the present. But as editors, we need to think ahead and anticipate the trends. And, so, while we desperately want to bask in the beauty of fall and soak up these last few weeks of foliage, pumpkin-spice lattes, and gratitude-spreading with our families, we need to start immersing ourselves in all things holiday... Toys, stocking-stuffers, gift guides, tree trimmings, and the holly-jolly seasonal essentials. It's our jobs to scope out the latest and greatest and report about them to you. And so our hearts are still very much in autumn, but our minds are filled with incredible ideas for a very delightful December. So, pardon us, while we interrupt this Thanksgiving month for a very merry moment and a happy holiday post…
Earlier this week, Momtrends hosted a crowd of top NYC bloggers at our annual #MTHoliday bash, where we introduced the season's must-have clothes, gifts, food, and more. Editors sipped deliciously festive POM cocktails while mingling with friends and meeting with brands—a merry time was had by all. And while we're sorry you weren't personally there, we'd love to invite you to get a head start on your holiday planning with a few of our festive favorites below.
POM Wonderful
You didn't think we would leave you hanging about those POM-infused libations now, did you? (Our favorite was the POMosa—it's just POM juice with Prosecco, and it makes a perfect signature cocktail for the holidays!) In season, October through January POM Wonderful 100-percent California-grown pomegranates are known and loved for their sweet and tart taste. POM has got some great party-friendly appetizer recipes too! You've got to check them out.
I See Me!
We're big fans of the personalized books and gifts from I See Me, and the new holiday additions are absolutely adorable. We love the customizable "12 Days of Christmas" book (your family's last name can be added to the title and your children's first names will appear throughout the pages). Additionally, the charming personalized ornaments from I See Me feature your child's name, a photo and a given year. These are beautiful keepsakes and darling stocking stuffers.
Epson
Printing your own holiday cards or invitations? Allow us to recommend Epson's Expression ET-2550 EcoTank wireless printer. It delivers convenience and value, with ultra low-cost replacement ink bottles and innovative refillable ink tanks. (We could all use a little less work and a little more savings this time of year!)
Bedgear Performance Bedding
This is a totally innovative and unique gift for sleep-deprived parents—sound like anyone you know? Well, if you're not a "mombie" yourself, you most certainly know and love a few. Thankfully, the performance baby bedding from Bedgear wicks heat and moisture away from Baby, and keeps them cool and dry—so they can sleep more soundly. The brand also has amazing products for grownups too… Not that you need much help nodding off these days.
Mudpuppy
We're all about gifts that double as activities here at Momtrends. And that's why we are crazy about Mudpuppy's craft sets for kids. Each kit includes four paper bags and all the accessories needed to make adorable foxes, raccoons, owls, and more! (Woodland creatures are having a major moment right now.)
Dream on Me
The évolur crib makes a phenomenal gift for a new mom. A stunning showpiece, it features modern and traditional elements with vintage-inspired craftsmanship. Made with top-quality materials in the USA, the évolur crib is designed to grow with Baby.
Hasbro
Chromecast might just be the ultimate stocking stuffer this holiday season. It's a small device that allows you to stream media to your television using your phone, tablet or laptop. And now with Chromecast and Hasbro's "Monopoly Here & Now: Big Screen Edition" app, the whole family can enjoy game night on your television screen. Of course, Hasbro still has a ton of traditional board games we know and love. 'Tis the season to be playing!
Igloo Coolers
There's a chill in the air this season—thanks to Igloo coolers! Their super-cool cooling products will help you in all your entertaining pursuits this season, from chilling a bottle of wine to transporting leftovers.
Teleflora
A beautiful floral bouquet always makes a memorable gift. This season, send cheer with Teleflora's precious Peanuts arrangements. The colorful arrangements feature reusable mugs and cookie jars inspired by our favorite cartoon characters.
Cabi Clothing
This season, Cabi has everything the busy party-hopping mama could ever want for her wardrobe. And, best of all, you don't have to leave your home to shop these fabulous finds—a stylist comes to you! It's convenient. It's chic. And our blogger models looked simply divine rocking the brand's latest looks.
American Girl
What little lady wouldn't want to see an American Girl under the tree? This year, American Girl has more gifts than ever for millions of special girls to express their unique interests.
Net Nanny
Keep your kids safe this season by regulating the content on their devices with Net Nanny's family protection pass. It lets parents monitor their children's friends, pictures, and posts on social networks.
Socktabs
Never lose another sock again! (Seriously, Santa, every man, woman, and child needs SockTABS in their stocking!) It's a wearable solution to the missing sock—and a simple product to help you find the right (or left!) match every day.
Tessemaes
Every party needs quality food. Dairy free, gluten free, and with no sugar added, Tessemaes dressings, dips, condiments, apps, and foods are absolutely incredible—and they taste homemade too!
Stocking Stuffers
There were some unique finds for the whole family on our "stocking stuffer" table (Lego sets, craft kits, baking supplies, etc). One of our favorites: Susan Mallery's books. Mallery's heartwearming Christmas love stories make great gifts for the romantic and the bookworm book. There's nothing like curling up with a good read and a hot cup of tea during the holiday season. Mallery's heartwarming Christmas love stories are great gifts for the romantic and the bookworm.
The Giving Tree
Bloggers were greeted by this DIY tree. We challenged guests to write down what they're doing to give back to their communities this season. They slipped their paper into a clear ornament and hung it on the tree to inspire hope and action. (We think every family should create something so special!)

GlamSquad
Our favorite makeup artists and hairstylists were there to provide guests with stylish touch-ups. GlamSquad is an on-demand, in-home beauty service in NYC that sends the hair stylist and makeup artist straight to you. We're sure that every time-strapped mom could use this service this hectic season!

The Nanny League
Momtrends has partnered with the Nanny League, an elite nanny placement agency, to offer childcare at our NYC events. A group of amazing college-educated nannies kept our kiddies busy with a snowman-making craft (using POM bottles!), Mudpuppy activities, American Girl dress up, and much more.
More fabulous photos inside the #MTHoliday Blogger Bash (and a peek at the awesome gift bag!)...
The goody bag with the mostest!
A special thank you to our truly amazing sponsors! This event would not have been possible without them!
This was a sponsored event. All opinions are our own.