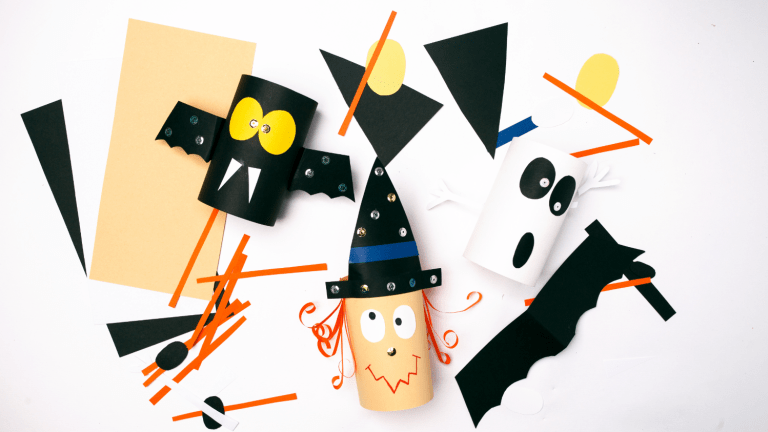 Three Impressive, Yet Easy Halloween Ideas
We rounded up three impressive, yet easy Halloween ideas to help you as you prepare for your family's Halloween celebration this year!
Now that September is well under way, it's time to start thinking about Halloween! I don't know about you, but I struggle to keep up with the Pinterest crowd this time of year. With school, sports, work and, you know, the million other things on my agenda, I don't have a lot of time to devote to crafty Halloween endeavors. I do, however, have a couple of kids at home who are VERY enthusiastic about Halloween and want to see me do more than put out my customary holiday wreath. I need to bring it this year and that's where EASY Halloween ideas come into play...Haha!
Related: Frightfully fun Halloween facts
Three Impressive, Yet Easy Halloween Ideas
I thought I would start early and plan out some special projects and such to help make the day even more special. That being said, I'm not trying to spend hours on elaborate crafts, so I've rounded up a few fun Halloween ideas that won't take you an unreasonable amount of time to put together, yet will still show your families that you're full of the Halloween spirit!
My mom has always thrown a mini Halloween party for the kids and they just love it. She cooks a Halloween themed meal and sets a spooky tablescape. What would be cuter at our celebration this year than Avery's Hello Kitty Halloween printable products? They have a whole gallery of customizable Hello Kitty templates. All of the fun labels and stickers would certainly make for a Pinterest worthy party. I'm a big fan of mixing ready-made with homemade and I know a certain four year old who would be very psyched to see her favorite kitty at the table!
How about setting up a DIY Halloween photo booth at your party? The kids will have a blast posing for pics before they head out for their trick or treating sesh. We can all trace, cut out a few figures and glue them on a stick right? I can wrap my head around a project like that I think...Full steam ahead! I'm soooo crafty now. Bwah! 
And, finally, we have Halloween marshmallow pops. Talk about your easy Halloween ideas...Super involved treat making probably won't be happening at my house unless I can carve out some unclaimed free time, which less face it, is unlikely. I can definitely find a few minutes to make these darling marshmallow pops from Take Time for Style though. Plus, they could double as a centerpiece at our party!
There you have it...three easy Halloween ideas that will, hopefully, save you some time this year while earning you a few extra brownie points with your little ones!
WANT MORE FROM MOMTRENDS?
PIN IT!
Be sure to follow Momtrends on Pinterest and for more spooky inspiration follow our Halloween and Thanksgiving Boards here. 
We were not paid for this post.
For even more Momtrends, follow us on Facebook, Twitter,Pinterest and Instagram.