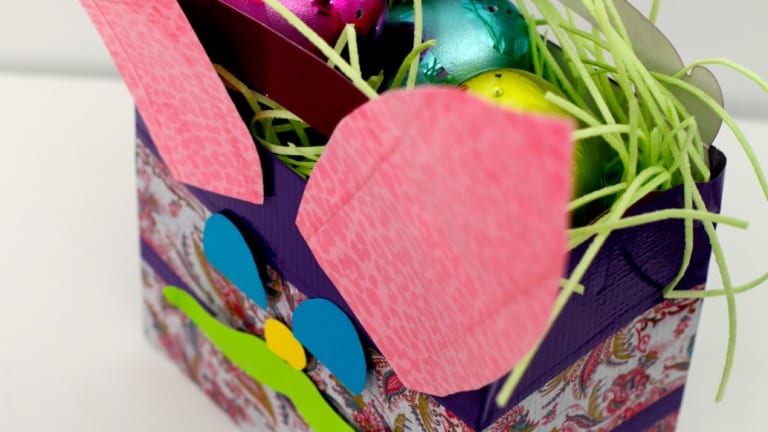 Three Easy Easter DIYs for the Craft Challenged
Three easy and family-friendly Easter DIYs that are sure to add some oomph to your Easter celebration.
Easter is just two weeks away, so I bet if you're hosting an Easter dinner at your house, you're already starting to think about how you're going to decorate for the occasion, as well as entertain your youngest guests! Well, look no further lovelies...I've gathered together three easy Easter DIYs that are sure to add some oomph to your Easter celebration. And they're all blast from the past Momtrends projects...
Related: Easter Brunch Recipes
Duct Tape Easter Basket DIY
If little ones will be in attendance at your Easter dinner, it's a good idea to have fun activities on hand to keep them busy...Our Scotch Duct Tape Easter basket project is too cute and so fun, the adults might want to get in on the crafting too! After they're done creating their baskets, the kids could use them to collect their eggs during the big egg hunt. On that note, consider planing an egg hunt. Haha! They're always a hit! Get the scoop here Duct Tape Easter Basket DIY: 
Eco-Friendly Easter Eggs 
You're going to need eggs for that egg hunt and if going green is on your agenda, you're sure to to love these tips for natural Easter egg dying. It's easier than you would think to go the natural route! Every day food items can be used to create natural Easter egg dye. Come find out how to make your own natural dye...Rosalind Creasy has some great tips over at her site too! Head here: Eco-Friendly Easter Eggs: 
Ombre Easter Egg Centerpiece
It doesn't get much chicer than this gorgeous centerpiece. Our ombre egg video tutorial will show you how to create your own Easter centerpiece with dyed eggs and a hurricane vase. It's easy as pie, yet will make a gorgeous statement as the focal point of your Easter tablescape! Get the details here Ombre Easter Egg Centerpiece 
So, who's ready to get going on some Easter crafting? This girls is raising both hands!
MORE EASTER IDEAS FROM MOMTRENDS
PIN IT!
Use Pinterest to save your favorite entertaining ideas. Be sure to follow our Easter Pinterest board here.