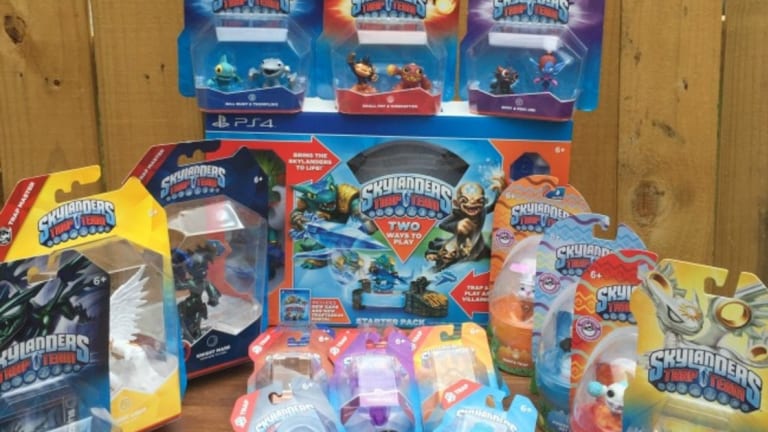 Skylanders Easter Basket Ideas
I'm super excited to be joining forces with Skylanders to bring you some Skylanders Easter basket ideas.
I know a certain someone will be hoping that the Easter Bunny slips a few Skylanders goodies into his basket this year and I'm willing to bet many of you have kiddos who are wishing on a star for that too! That's why I've come up with Skylanders Easter basket ideas.
If there is one thing that's HUGE in our house...It's the Skylanders video games. My six year old has been all about Skylanders for a couple years now and that doesn't seem to be changing anytime soon. My friends with kids in that age range all say the same thing too...It's Skylanders mania! So, I'm super excited to be joining forces with Skylanders to bring you some Skylanders Easter basket ideas. 
Related: DIY Duct Tape Easter Basket Craft
Skylanders Easter Basket Ideas
How cool is it that Skylanders has actually come out with some Easter themed products? Here's a peek at a few of them:
Eggsellent Weeruptor was chosen as this year's official mascot for the Annual Dragon Egg Hunt! Being new to this time honored tradition, he disguised himself as a candy-coated egg and proceeded to capture Spyro, Cynder, and Drobot within a Traptanium basket… sort of missing the point of the occasion. But what he lacks in point-getting, he more than makes up for in "Eggsellence!"
Power Punch Pet-Vac was the greatest, most daring flying ace in all of Windham. He was given his magical wings when he was young, as was the tradition for all Air Barons. But when his homeland was raided, he chose to sacrifice his wings to a young mother so she could fly her children to safety. This act of nobility caught the attention of Master Eon, who sought out the young Air Baron and presented him with a gift – a powerful vacuum device that would allow him to soar through the skies once again. Jet-Vac accepted the gift with gratitude, and now daringly fights evil alongside the other Skylanders.
The Bunny Earth Trap is one of the most unique Traps of the bunch and features a cute bunny-themed design.
Skylanders Easter Crafting
For my Skylanders themed basket, I decided to go with an aqua and lime green color scheme...because everything I do has to have a color scheme. Haha! To go along with the amazing games, figures and traps that Skylanders sent over, I picked up a basket, applesauce pouches and some chocolate and marshmallow candies in my colors of choice.
I also made some DIY Skylanders Easter eggs with plastic eggs, washi tape and stickers. All you have to do to make these eggs are, fill the eggs with treats, apply the washi tape in a fun pattern and plop a sticker on. They were easy peasy to make and turned out so darn cute!
Next, I simply arranged everything in my basket and, voila, we have a basket fit for any little Skylanders fan!
MORE EASTER IDEAS FROM MOMTRENDS
PIN IT!
Use Pinterest to save your favorite entertaining ideas. Be sure to follow our Easter Pinterest board here.