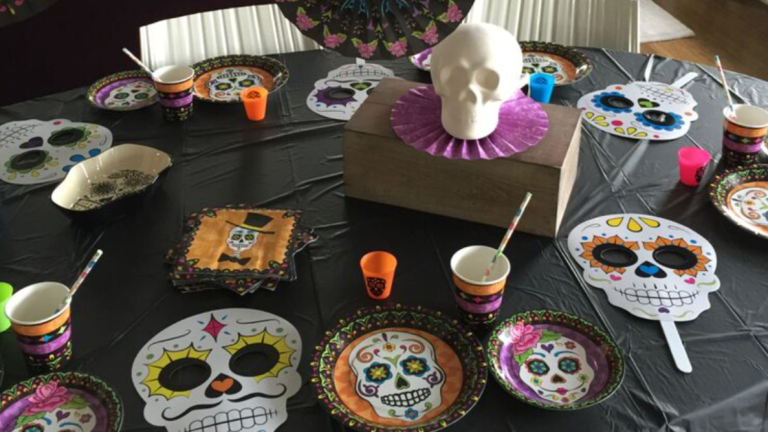 Oriental Trading Company Halloween Ideas
Oriental Trading Company has come to the rescue of working parents with kits and a la carte decorations to make Halloween extra festive.
Coming up with original and adorable ideas can make one feel anxious. Sure Pinterest helps, but you never want to find yourself with ammo for the Fail Boards. Luckily for all of us, Oriental Trading Company has come to the rescue with kits and a la carte decorations.
Related: Throw a halloween party for your kids with these spooky crafts and recipes
Oriental Trading Company Halloween Ideas
To step away a bit from the regular black and orange, pumpkins and bats theme of this holiday, we decided to throw a Day of The Dead Sugar Skull party with lots of bright colors and dancing skeletons.
This colorful skeleton garland was hung around the kitchen chandelier to give it a spooky glow. We also hung paper fans at varying angles.
To make this ghoulish centerpiece, place a box (a tissue box works perfectly) underneath your tablecloth. The skulls will eventually be turned into a craft for your guests, but for now they look awesome as the focal point. I filled glass bottles from the dollar store with water and food coloring to make them look like potions. 
The flowers are fabric hair clips which your guests can wear and take home. Paper fans are placed in the back, and voila! This will take you 10 minutes. There's no avoiding the candy your kiddos are going to consume this time of year. But your parties and celebrations don't have to be filled with sugar. As an alternative, serve green beans with paprika, blueberries, applesauce, nuts, or pretzels (okay, maybe a cookie here or there, too). Masks on the table or in a box right by your front door will encourage your guests to be playful and snap photos.
Cut some slits into craft paper to make simple place cards. The fit neatly into skull shot glasses which will later be used for drinking the Witch's Brew.
To make this creepy concoction, fill one bottle of water and use the Soda Stream to make it bubbly. Add 1 1/2 cups of pink grapefruit juice, lemon wedges, cut grapes, and ice. Put into a big jug with a ladle and some extra skull glasses. Tie a tag around it and you've got a drink for the whole party to enjoy.
Get ready for the crafting--and believe me, even the "non crafters" will want in on this one. Grab your skulls from your centerpiece and place them around the table, a few kids to one skull. Then place some dots of finger paint onto the table cloth and let them go to town. You'll be amazed by how different each skull will look like.
Halloween Crafts
If you have slightly older children present, a more intricate craft might suit them. These flower headbands are the perfect solution. All the pieces are there, but it's up to them how they want them to look. Provide a little glue and let their imaginations do the rest. 
Don't forget to send everyone home with a goody bag! These color-your-own treat bags are a great way to send your guests off with an activity they can do at home. Fill your bags with colored pencils, markers, temporary tattoos, beads, or a juice box. For more party ideas, be sure to subscribe to our YouTube channel. Happy Halloween!
WANT MORE HALLOWEEN FROM MOMTRENDS?
PIN IT!
Be sure to follow Momtrends on Pinterest and for more spooky inspiration follow our Halloween and Thanksgiving Boards here.