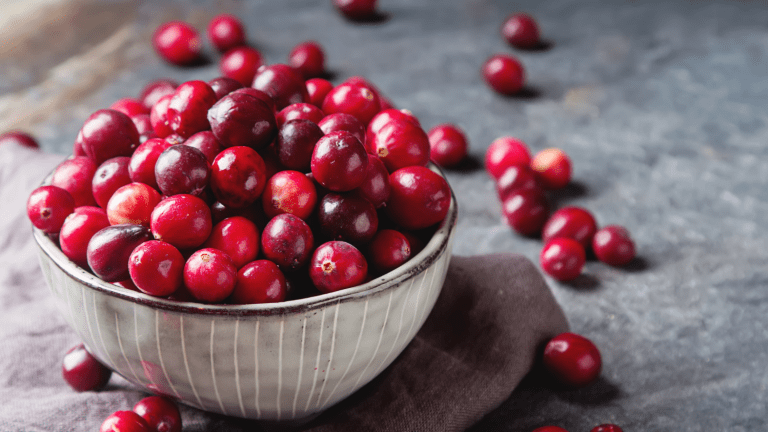 4 Delicious Ways to Use Fresh Cranberries
Use fresh cranberries to upgrade your meals throughout the holiday season.
Thanksgiving may be over, but fresh cranberries are still in season. Relatively inexpensive, these ruby gems are a delicious and festive addition to the holiday season. Plus, they are healthy too - cranberries are low in calories and low on the glycemic index, loaded with antioxidant and anti-inflammatory benefits, help support a healthy immune system, and are a good source of vitamin C, manganese, and fiber. Here are four delicious ways to use cranberries all holiday long.
Look for fresh cranberries in your grocery store's chilled produce section. Fresh cranberries can be stored in a tightly-sealed plastic bag in the refrigerator for up to two months!
Baked Brie with Balsamic Rosemary Cranberry Sauce 
I recently found this appetizer on Sarcastic Cooking and pinned it for an upcoming holiday party. I tried it out last night at a belated family Thanksgiving and it was devoured before I could snap a picture of my own! It's simple, delicious and oh-so-pretty for a party. The final results looks like a cheesy present just begging to be bitten into. Get Baked Brie with Balsamic Rosemary Cranberry Sauce here.
Merry Cranberry Margarita 
I know margaritas might make you think of warm summer days by the pool, but this winter version with fresh cranberries will make you want to bring your margaritas with you right into the holidays. This simple cocktail relies on blended fresh cranberries as well as cranberry juice and looks extra festive when the glass is garnished with some sugared cranberries on a toothpick across the rim. Get the Merry Cranberry Margarita recipe here.
Cranberry Harvest Muffins 
These cranberry muffins have all the flavors of the season - cinnamon and ginger, cranberries and toasted nuts. Skip the sifting to make this recipe even quicker and swap out any additions your kids won't eat. A tasty treat for lunch boxes, an after school snack, or for unexpected overnight visitors. Get the Cranberry Harvest Muffins here.
Homemade Cranberry-and-Orange Vodka 
Looking for an easy and delicious homemade gift to give this season? With less than an hour and a few pretty bottles, you can create these containers of homemade cranberry-orange vodka to give to family and friends. Wrap them up with the cute printable hangtags found in our and consider adding an accompanying recipe for a festive cocktail. Get the Homemade Cranberry-and-Orange Vodka recipe here.
 MORE FOOD IDEAS FROM MOMTRENDS
PIN IT!
Use Pinterest to save your favorite recipes. Be sure to follow our Healthy Eats board
Momtrends was not paid for this post.