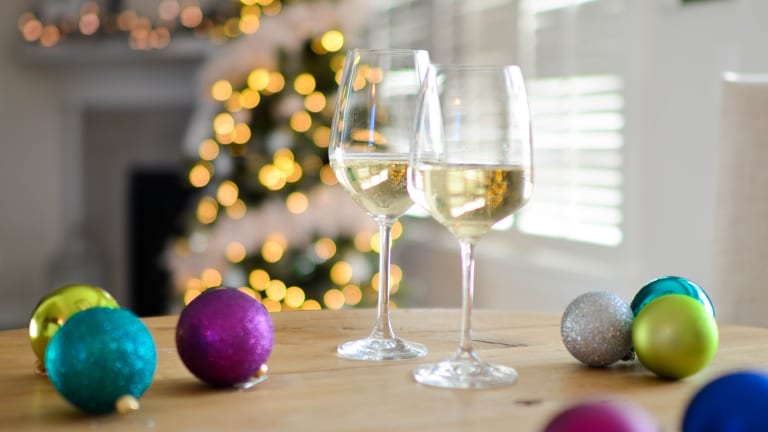 5 Stay-In New Year's Eve Plans
But staying in doesn't mean you're doomed to have a boring NYE. Here are 5 fun ideas for staying in on New Year's Eve.
I'll admit - I love staying in for New Year's Eve. After a month of holiday parties and family get-togethers, I have little interest in trying to find a babysitter, battling the crowds, shelling out big bucks for a prix fixe dinner and trying to keep my eyes open until 12:01. But staying in doesn't mean you're doomed to have a boring NYE. Invite over another couple (or a few!) and ring in the new year without blowing the bank or your bedtime. Here are 5 fun ideas for staying in on New Year's Eve.
Staying in is Trendy
At 6, 9 and 10, my kids are now old enough to actually participate in some of the activities below or enjoy hanging out with the kids of our friends and hole up in the back room with a movie of their own. Here are some of my favorite ways to spend NYE in.
DIY Sushi Making Party 
Fun for adults and kids 5 and up, plan your evening around rolling and stacking your own sushi bites. Divide up the list of ingredients between your guests and consider picking up a few inexpensive sushi rolling mats like these or these. Then have fun crafting your own sushi creations, dipping, and of course, eating! Get DIY sushi recipes here or here or check out here for how to make rolls without a mat at all. Or order this all-in-one kit that has how-to's and the equipment you need.  (note: these links contain Amazon Affiliate shopping links)
Wine Tasting 
Choose a varietal like Syrah or Pinot Grigio and have each couple bring one cheap bottle and one bottle in a set price range. Then cover the bottles with brown bags, number them up and let people see if they can choose the priciest wine. Or have guests bring all different red varietals, provide a list of the potential options and see if guests can match the right varietal to the right bottle. If you have a creative bunch, have revelers write up their own tasting descriptions with a fun tasting guide like this. Who wouldn't want an austere, well-structured white with bright acidity and hints of dill and cat's pee. :) The main goal is to drink wine and have fun so you can't go too wrong here. 
Game On 
Bring together some of your favorite gamers and celebrate the end of the year with classics like Pictionary or Scattergories or recent releases like the hilarious Speak Out or Codenames Pictures. Keep it lighthearted and fun and with your guests' interests (or skills) in mind. My personal favorites are Balderdash, Telestrations, and the always-classic charades. If your kids are old enough to participate (and young enough not to be embarrassed to be spending NYE with you), try choosing a game that the kids can play too. (note: these links contain Amazon Affiliate shopping links)
Guac Off 
Add a festive layer of competition to the last day of the year by having your guests bring their best secret family version of guacamole to the night. Or salsa. Or chili. Or soup. Or chocolate chip cookies. Or whatever other edible strikes your fancy. Let guests vote on their favorite and create silly awards to hand out in creative categories.
White Elephant Gift Exchange 
Get some "interesting" gifts this holiday season?? Maybe some "fun" socks from your Nana or a fruit cake from Aunt Gretta? Some monogrammed wine glasses or a awfully wonderful singing, dancing Santa? Invite friends over on NYE to participate in a white elephant gift exchange with everyone wrapping up 1-2 delightful but definitely not desired gifts they received over the holidays. Then swap, steal and trade according to these official White Elephant Gift Rules (or some of the variations listed as well).
However you choose to spend your New Year's Eve, we here at Momtrends hope that you and yours enjoyed a wonderful holiday season and wish you health and happiness in the year ahead!
Happy New Year!
More from Momtrends
Pin it! 
Follow our New Year's Eve board on Pinterest here.
Momtrends was not paid for this post. (note: these links contain Amazon Affiliate shopping links)