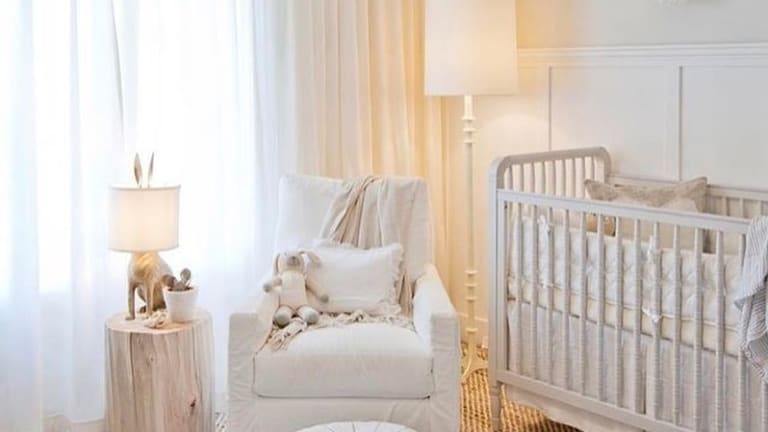 Publish date:
Little Crown Interiors
Naomi Coe is the woman behind SoCal's "Go-To" interior design firm. Little Crown creates the chicest nurseries
The lady behind Little Crown Interiors knows how to spot trends and make them work for your family. Naomi Coe is the woman behind SoCal's "Go-To" interior design firm. Little Crown creates the chicest nurseries around. They company has designed more than 60 nurseries are in hot demand. We caught the designers for this exclusive design interview.
Related: DIY design for nursery bedding
How do you split up your roles as partners?
As best friends, and design enthusiasts, we're pretty much attached at the hip. We work together on all things creative, we've found that putting our heads together yields the best results. That said, Naomi is really in-charge of designing, she does all of the technical work and is highly educated in the field of design. Gerri has a background in marketing, and handles much of the business/marketing side of the company (although, again, we even work on all of the marketing campaigns together, as we view that as a creative outlet).
What are some trendy colors for the nursery?
Well, the pantone company announced that Honeysuckle is the color of year, it's a beautiful peachy/ pink shade that we love. Also, we've seen a definite trend towards brighter colors for both boys and girls--vibrant shades of aqua, lemon and green abound in juvenile design right now.
What are some of your sources of inspiration?
Gerri: The Mom in me really loves the gallery on ProjectNursery.com the real rooms, created by families across the country are endless sources of creation and inspiration.
Naomi: I find that each client we work with provides us with a unique inspiration. Sometimes it's just something I see in their home - We had a client recently who had a set of Barcelona Chairs in her living room and I knew instantly what my plan was for her space.
What is the common misconception you'd like to change about working about a designer?
A common misconception of designers is that they always want to design in their own taste. We believe that it is our job to marry our own taste and knowledge with the personal needs and styles of each individual client. After all, they are the one who has to live with the design!
What are some tips for moms designing nurseries on a budget?
Remember that a nursery is a special, sentimental place. Using hand-me-downs and heirlooms will help curb your spending and also add richness and character to the space.
What are some of your favorite blogs or online shopping sites?
As women, we both love all things Rachel Zoe, the daily blog www.rachelzoe.com is great. As designers, we're big fans of Jonathan Adler, both the blog and his online store. We also enjoy HGTV and Design Sponge. As specialists in the juvenile industry, Project Nursery and OhDeeDoh are go-to blogs for us, and between Skip Hop, Room Service and Oopsy Daisy, we can always find something we must have.
MORE MOMTRENDS FOR NEW PARENTS
PIN IT!
Use Pinterest to save your favorite gear for baby. Be sure to follow our Baby Things to love board here.