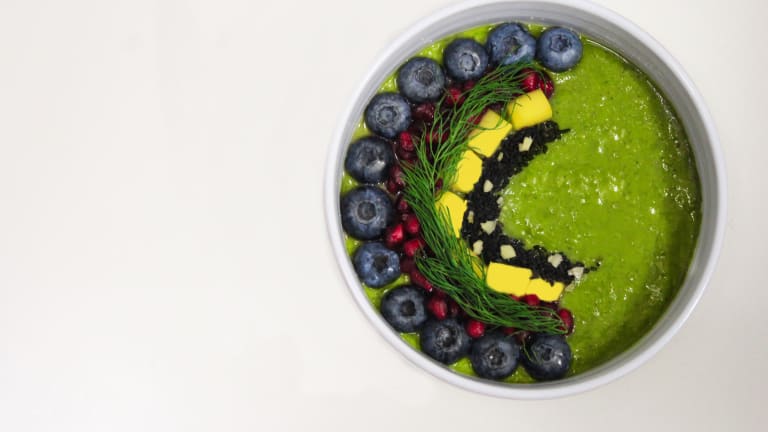 5 Superfoods to Put In Your Smoothie
Try this do-able nutrition goal: Add one superfood to my smoothie. Here are five superfoods to start with.
If you're anything like a gazillion other people around the world, you've made a goal to eat better, exercise more, and get healthier. As I'm sure you've heard before, the key to making (and keeping!) smart goals is to make them specific and measurable. So cross "eat healthier" off your resolution to-do list and instead make this do-able goal: Add one superfood to my smoothie. Simple, healthy and achievable, which means it will be good for your body and your mind (don't you hate when your resolutions cause you more stress?!)
Related: Three kid-friendly smoothie recipes
In the national survey, "What's Trending in Nutrition", more than 1,700 registered dietitians spilled the beans on the hottest superfoods trends. And here's the beauty of adding superfoods to your smoothie: You won't even know they are in there. I'm not about to chow down on a teaspoon of chia seeds or 2 cups of kale, but blended up with other flavors in a quick morning breakfast or afternoon snack? I feel like a healthy genius. Here are five nutritional powerhouses that are simple to sneak into your smoothie.
Seeds like chia and hemp - Seeds like chia and hemp continue to be all the rage in 2017. Small yet mighty, chia seeds are loaded with fiber, protein, omega-3 fatty acids and are a good source of other nutrients like manganese, magnesium, and phosphorus. Hemp seeds provide a complete protein from a plant-source (which is rare) and are a good source of vitamin E, phosphorus, and potassium.

Fermented foods like yogurt or kefir - While yogurt might already be a staple in your smoothies, adding in kefir can provide even more strains of beneficial gut-friendly bacteria and good yeasts than yogurt does. But the taste of kefir on its own can take some getting used to. Instead just pour a bit into your smoothie and you'll never know it's there (though your body will!)
Kale, spinach, and other greens - We ALL need more greens on our diet and adding them to smoothies is a great way to pack 1-2 cups of greens into a meal you might not otherwise have them in, like breakfast. Choose from kale, spinach, chard, or other greens and add a cup or more into your smoothie. Even better, switch up which green you add every few weeks to get a variety of greens in your diet. While most won't turn your smoothie completely green, a few blueberries or chocolate powder can easily cover up any color change.
Green tea - Green tea has been shown to have benefits ranging from powerful antioxidants to key amino acid, but you can easily get the benefits of green tea in your smoothie by adding in matcha powder. Matcha is more concentrated than regular green tea which mean you're getting even more of the good stuff.
Coconut oil - Oil in your smoothie? That's right. Coconut oil has been shown to make you feel more satiated (meaning you won't want to snack again 10 minutes later), help you burn more calories, and even lower your total and LDL cholesterol (that's the bad one you want to keep low). It also contains high amounts of lauric acid which has been shown to kill microbes like bacteria, fungi and viruses. Coconut oil is a solid at room temperature so simply scoop a spoonful out and plop it in your smoothie before you blend. You won't even know it's in there!
So choose one of these five superfoods and decide to integrate it into your smoothies in January.  Just try not to rub it in too much to everyone else...
MORE FOOD FEATURES FOR YOUR FAMILY FROM MOMTRENDS
PIN IT!
Use Pinterest to save your favorite recipes. Be sure to follow our Kid Food Pinterest board here.