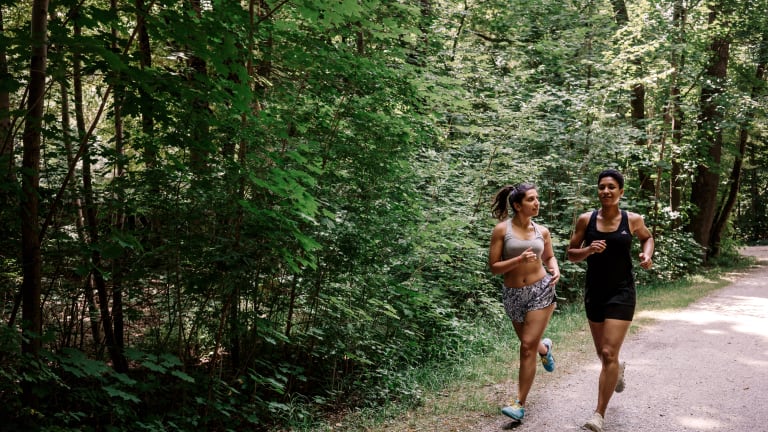 You don't need a gym to get fit. This easy to follow park routine will get you a great strength and cardio workout without equipment.
Lawson Harris, a private pilates instructor, created this workout just for busy moms. You don't need a ton of time or a personal trainer. Grab a friend or go solo, with this park workout you are on your way to fit.
Park Workout with Running and Strength
Check out our park video to get inspiration for your next workout.

Five Tips for the Perfect Pumpkin Patch Visit
It's that time of the year again...pumpkin patch time! While I love a nice Pumpkin Spice Latte as much as the next fall lovin' girl...for me, the season is all about spending time with my family...and hopefully that time is spent outside as much as possible. If you're headed out ...read more
Perfect for Fall Pumpkin Spice Dirt Bomb Recipe
Get your pumpkin spice fix with this tasty dirt bomb recipe. Unlike fried donuts, this recipe is a little lighter and, since no hot oil is involved, a lot less messy. These dirt bombs, or baked donuts, are irresistible cakey muffins that are spiked with nutmeg and ginger, and ...read more
Save Money at a Ski Swap
Are the slopes in your future? If you want to save money on ski gear, consider a ski swap. A swap is a great way to buy and sell used equipment. Most swaps consist of a variety of gear, from brand new to used skis and snowboards to skis; from poles to boots to bindings and ...read more
Finding the time to workout
The #1 fitness complaint I hear from moms is that there isn't TIME to workout. Here at Momtrends, we're trying to remove as many obstacles as possible for moms to make time for fitness. 
Park workouts are ideal for busy moms, it's cost-effective and time-friendly. 
Getting Started with a Workout
Check with your doctor to make sure that you are ready to get back in shape. Momtrends' channel is all about providing fashion and style inspiration to moms. From the trendiest fashions to the coolest gear to beauty trends, we want you to feel fabulous every day.
MORE RUNNING FROM MOMTRENDS
PIN IT!
Use Pinterest to save your favorite parenting articles. Be sure to follow our Running board here.
This is not a sponsored post.