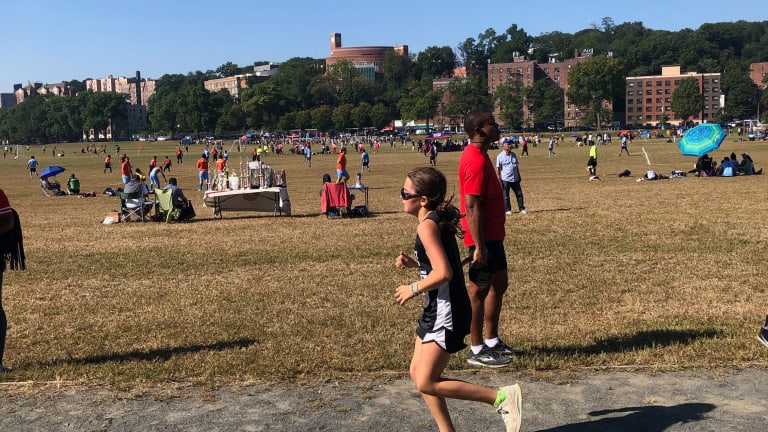 How we can help our girls and start to  #FixGirlsSports
Helping female athletes succeed in a world dominated by men
I refuse to get exhausted by the onslaught of stories of female athletes who have been abused. That's the easy way out. I'm energized to figure out how we can help our girls and start to fix girls sports.
This week Nike was once again outed for an anti-female practices. You can read the full article in the New York Times here. Be sure to watch the video and really listen to Mary Cain. 
Mary Cain's Story of Abuse in the Nike System
Mary's story is about a young girl who had big audacious dreams. Mary was a phenom in highs school and a 1500m Finalist at the 2013 World Championships. She joined the Nike program to try to be her best and the program failed her miserably. Her body became the enemy as she struggled to get thin enough to please her coaches. 
This is just one story, and a notable one of Nike's anti-woman approach to business. I've also recently read about Nike's punitive policies towards female athletes who want to have families. 
How we can help our girls and start to fix girls sports
Instead, of throwing my hands up, I am motivated to be a change agent for girls and women. From sexual assault, to coaching methods that are cruel and discriminatory, we can and will do better for our girls. I'm sick of hearing of large companies and powerful men bullying girls and women. This unhealthy and misogynistic behavior has to stop and we're the ones to do it.
I'm more worried about how our girls are weathering the current system. I'm heavily invested, as I have two female athletes. Quitting sports isn't the answer, changing the system is.
Coaches need to be trained to look after the total athlete. Mental health and physical health. 
Getting started on a better path for Girls Sports
One of the first things we can do is share stories. The #MeToo movement gained power by destigmatizing survivors. More and more women and girls felt comfortable coming forward. The same can happen in sports. Powerful brands and coaches can be held accountable.
Kara Goucher, a two-time Olympian, says, 
What I'm Doing as an Agent of Change
As a mom, I use my voice to make my opinions heard. My older daughter skis at a high level, and I'm constantly advocating for more female coaches in her program. In fact, I'm relentless about it, our girls model what they see. If they see strong women leading in sports, they will find their voices.
Of course I can use my social media platform to stir the pot. And I can use my business to wisely chose where I partner. I've turned down multiple opportunities to partner with Nike over the years. Instead, I can highlight female owned brands like Oiselle.
Founder, Sally Bergesen is a runner and a feminist, I'm all for her message of supporting brands that are made by women athletes for other women athletes. 
This summer I took a SafeSport class online. The 90-minute online SafeSport™ training is free to anyone who is interested.  I took the Parent course for middle school sport. This was sent to me as a link from one of my girls teams. 
The parent information was solid. And it did embolden me to talk to our sports programs about how away camps are handled. I've learned that I can't worry about being the squeaky wheel or fret that I will be labeled as meddling or over-protective. The stakes are too high.
Download the middle school SafeSport Toolkit here 
How can we Fix Girls Sports
Here we are. This is what I've come up with. It's a start and I hope you'll add to it. 
Model the behavior you crave. We don't own a scale and don't talk about weight. With sports and life, we talk about effort and strength. We celebrate losses and strong bodies. My girls don't see me on diets or belittling my modest improvements as an aging athlete. 
Get involved. As coaches and volunteers. The more females voices in power, the more we can protect our girls and institute policies that are female-friendly.
Advocate. Demand that leagues hire more women. That schools hire more female coaches and that companies reflect the market they serve.
Share your Stories. There is strength in numbers.  
Use your wallet. Nike can do whatever they want because they have money acting as a shield. If we shop and support brands that back female athletes in healthy ways, we can lead other brands to follow the flow of money.
Become a super fan. I'm a runner and I follow very few female athletes on social media. The more attention I give them, the more power they have.
Education. Get your SafeSport certification (it's easy and I did it in one afternoon by watching a series of videos and taking quizzes). The website is also a place to report issues.  
Report Issues. Don't let your mom or dad intuition fail you. If you sense something is wrong lodge a complaint via SafeSport and with your league. 
What am I missing, what can I add to this list?
Let's start supporting our girls in new ways. Not just celebrating the wins, but celebrating the stumbles along the way. 
It's going to be a marathon, not a sprint, but we all know women are tough enough to see this through.
More from Momtrends about raising strong girls.
Pin it!
Use Pinterest to save your favorite parenting articles. Be sure to follow our Running board here.
Momtrends was not paid for this post.