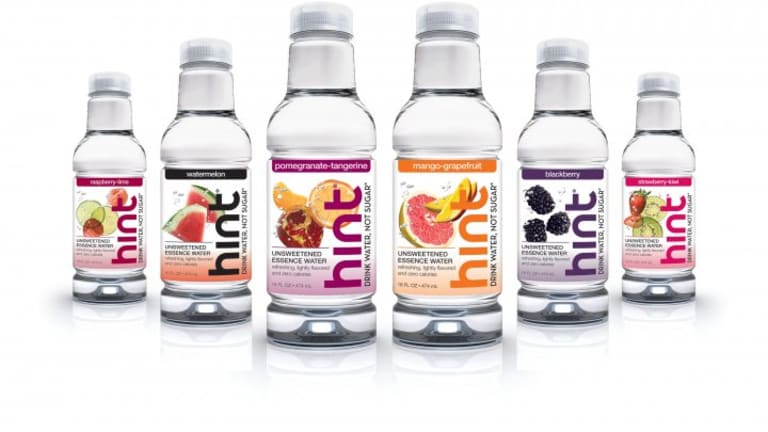 Publish date:
Hint: A Smart Alternative to Sugary Juices
Hint essence water is a smart alternative and a great way to kick the juice habit.
Hint essence water is a smart alternative and a great way to kick the juice habit.

Kids love sweet drinks. They simply crave sugar-loaded juice boxes. Parents like the convenience of these to-go paks. Juice boxes are a no-brainer for packing a quick school lunch. For parents who want to give their kids something healthier, Hint essence water is a smart alternative and a great way to kick the juice habit.
A Smart Alternative to Sugary Juices
The American Heart Association recommends parents limit the sugary drinks given to kids. Even if the juice says 100% natural or organic, these drinks are still jammed with empty calories little bodies don't need. I try to pick your "juice-worthy" occasions wisely. In my house juice time happens with the morning snack. The sugar rush coincides with outdoor play time and doesn't interfere with napping or meal consumption.
I wish I could say that was the end of the story, but my daughter still tries to break my will. The rest of the day I offer water and skim milk. Trouble is, my toddler balks. When I heard about Hint, I thought I'd try it.
My 2 year old liked the sweetish flavors and I was thrilled that she was avoiding extra calories and sugar by drinking Hint. That's right, Hint got 0 calories and nothing artificial. How do they do it? Hint's water goes through a natural purification process and is then infused with natural flavors and finally gently pasteurized.

The Ten Best Wooden Play Kitchens For Kids
Cooking is a timeless fascination for children. This type of play goes beyond gender and teaches kids loads of life skills along the way. An investment in a play kitchen is money well spent, as it can provide hours of entertainment. We've rounded up the ten best wooden play ...read more
New Victory Announces a New Season of Shows
We know you're busy planning picnics and summer outings, but we wanted to let you know that The New Victory just announced their new season and it looks fantastic. We thought you'd like a sneak peek of what's in store! Each year the New Vic theater brings culture to tourists and ...read more
Fun Ways to Discover Venice Italy with Your Family
Greetings from Italy wear the gelato is rich, the clothes divine and the scenery is inspiring. Now that I've been to this fine city in the north of Italy, twice, I've amassed a list of favorites to share. These are some fun ways to discover Venice, Italy with your family. ...read more
What's Inside Hint Water
Kids will like the sweeter flavors: peppermint, tropical punch and pear. I was impressed with the more subtle mango-grapefruit and pomegranate-tangerine. Bottles retail for $1.69, and Hint can be delivered right to your door for $44 per case of 24 (with free delivery). So skip the juice box when you're packing school lunches and toss in a bottle of Hint--it's a smart and tasty swap.
More Healthy Tips from Momtrends
Pin it!
Use Pinterest to save your favorite health tips. Be sure to follow our Health & Fitness Board.
This A Smart Alternative to Sugary Juices feature is not sponsored.