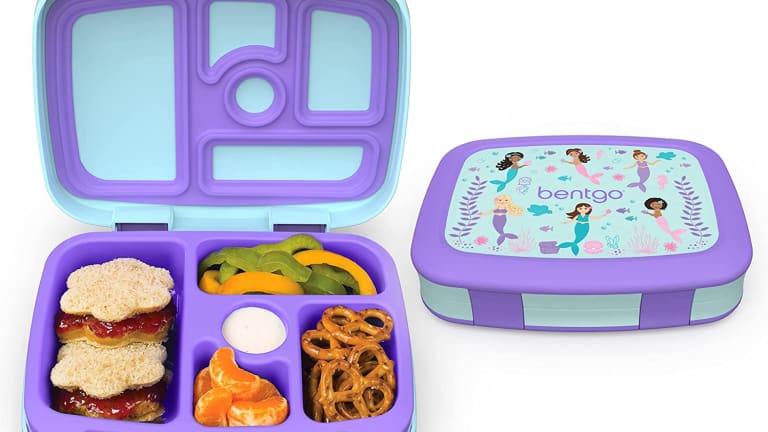 How to Green Up Your School Lunches
Switch up your disposable lunches for these eco-friendly options.
And just like that, summer is over and the routine of school has begun once again. New backpacks and homework packets and of course, daily lunch packing. But how "green" are the lunches you are sending to school? Curious about how to send school lunches that are good for your child and the Earth?
Related: First day of school sign craft
How to Green Up Your School Lunches
First, the hard facts about disposable lunches:
According to the EPA, the each American school-age child throws away an average of 67 pounds of lunch waste a year.
An estimated 2.81 million juice boxes are sold each year in the U.S., most of which cannot be recycled due to the inseparability of the cardboard, plastic, and aluminum foil used in the product.
Lunchtime trash is second only to office paper, as the leading source of school waste, according to Green Teach Magazine
3,460,000 tons of tissues and paper towels wind up in landfills each year.

The good news? It's easy to make some simple changes to help reduce the impact of school lunches on the environment. "Packing your child's lunch is one of the greenest school lunches your child can eat, so long as you have sent the lunch in a reusable container," says Terra Wellington, green mom expert and author of the e-book The Mom's Guide to Growing Your Family Green: Saving the Earth Begins at Home. "The food choices make a difference as well," says Wellington. Here are her top tips for greening up school lunches.
Let's be honest - it may take a few more minutes in your day to pack a greener lunch - but any new habit does! And we think it's worth it. You'll save money on buying bags and pre-packaged food, your kids will eat healthier, and the Earth will thank you.
MOREBACK TO SCHOOL IDEAS FROM MOMTRENDS
PIN IT!
Use Pinterest to save your favorite recipes. Be sure to follow our Back to School board for more tips
Momtrends was not paid for this post. This post may contain affiliate links. By clicking and shopping, you help support Momtrends and allow us to keep reporting on trends.