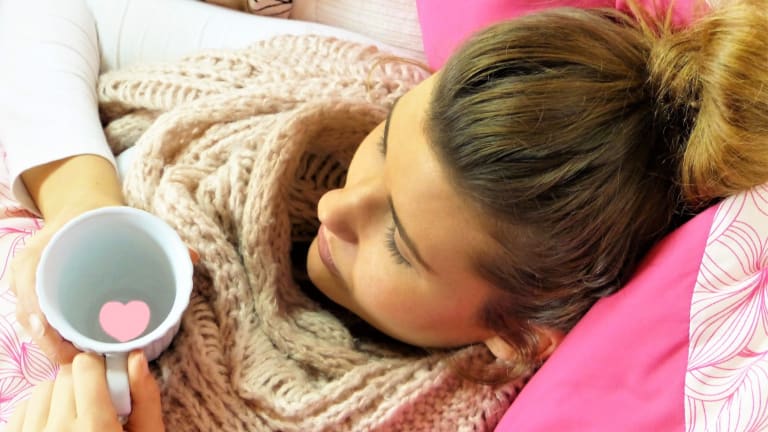 Busy Mom's Guide to Dealing with Colds & Flu
Keep the right supplies on hand to make sure we bounce back as quickly as possible now that cold and flu season is officially upon us.

Mr. Momtrends came home sick today. There's nothing worse than seeing your husband down for the count. He's a huge part of what keeps our family going. Now not only am I brewing tea for him, we're now playing defense "man down" when it comes to parenting. If your house runs like ours, you know we need all the players in prime shape. A few weeks ago, I was in the same spot. We keep the right supplies on hand to make sure we bounce back as quickly as possible now that cold and flu season is officially upon us.
The Mr. and I both have full-time work and co-parent the girls. We're always looking for tips to keep ourselves feeling healthy, Vicks offers DayQuil Severe and NyQuil Severe with maximum strength ingredients to relieve the worst cold and flu symptoms. In addition to keeping these remedies on hand, my best tip to navigating illness is to cut back. 
I clear my calendar and make rest a top priority. I cut out sweets and remove dairy from my diet. When I'm sick, I focus my diet on nourishing foods like citrus and herbal teas (my favorite is verbena tea from Kusmi).
Though there is always tons of work on my plate, I know staying up late won't help anything. To speed up recovery, I have to sleep. No other nighttime medicine relieves more cold/flu symptoms than NyQuil Severe*. I get the rest I need to help my body fight back. NyQuil Severe contains a pain reliever/fever reducer, nasal decongestant, cough suppressant and antihistamine all to temporarily relieve aches, fever, sore throat, nasal/sinus congestion and pressure, sneezing, running nose and cough.
While I love a good workout, now is not the time for training, at most I will rely on stretching or light yoga is the perfect thing to alleviate aches.
When I have to get out for school drop off or another essential event, I rely on Vicks DayQuil Severe. No other non-drowsy medicine relieves more cold/flu symptoms*.
Four quick recovery tips from Nurse Practitioner Barb Dehn:
1. Don't Spread It. You're most contagious in the first 24 hours when your symptoms are at their worst. If you have two or more of these symptoms, stay home to rest: fever over 101oF, cough, sore throat, running nose, headache, body aches, chills, or fatigue.
2. Say no to stress. Now is not the time to plan the school benefit on top of your other responsibilities. Stress can influence the symptoms of cold, cough and flu by interfering with how the immune system functions. To keep your immune system strong, make sure to get plenty of rest and sleep all the time, not just when you're sick.
3. Elevate the head of the bed. Place a pillow under your mattress to raise the upper body from the waist up. This allows blood to flow away from the head and reduce inflammation of the air passages. Using extra pillows can also ease body aches by taking the pressure off hips, knees and back. Remember to wash your linens quickly once you recover.
4. Take a hot shower before bed. Steam and humidity can cause sinuses to drain and relieve stuffiness from a cold. It can also help you to relax, and ease chills, aches and fatigue. Put your towel and/or bathrobe in the dryer so that you don't feel chilled when you get out, and make sure the room is nice and warm.
Don't just take it from me. Better Home & Gardens just announced that Vicks DayQuil and NyQuil Severe has been named Best New Cold and Cough Remedy in the 2015 Better Homes and Gardens Best New Products Awards (BNPA). The BNPA is the most credible, consumer-voted awards program in the U.S., and represents the unbiased voice of consumers nationwide.
Here at Momtrends we hope all parents stay healthy during this season. If the germs find their way into your home, rest assured Vicks DayQuil and NyQuil Severe will help you feel like yourself again. Vicks DayQuil and NyQuil Severe provides relief from your worst cold symptoms helping you power through your days and get the rest you need at night.
MORE WELLNESS FEATURES FROM MOMTRENDS
PIN IT!
Save your favorite tips from Momtrends on Pinterest and be sure to follow our Health & Fitness board here.
*among OTC cold & flu medicines. This is a sponsored post. All opinions are mine and nothing was scripted from the sponsor.