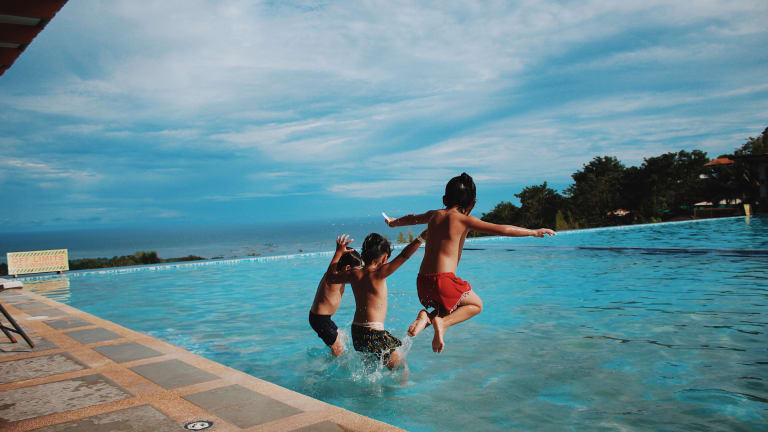 4 Ways to Avoid Lice at Summer Camp
Summer camp is just around the corner! Use our 4 tips to prevent lice at summer camp from ruining your summer fun.
Do you remember the first time you went away to summer sleepaway camp? I can still picture it. I was 10, maybe 11 and it was one of the first times - and definitely the longest time! - I'd be sleeping away from my parents - a whole week. According to the American Camp Association, there are more than 14,000 camps in the U.S. with an estimated 8,400 overnight camps. 
Related: Screen free summer activity ideas for kids
These summer camps offer kids a host of amazing opportunities from making new friends to travel, trying new sports and activities to gaining self-confidence doing things on their own. But summer camps can also come with their own challenges like homesickness and of course, everyone's favorite school-year friend, LICE. Ugh.
I hesitate to even say this aloud lest I jinx myself, but....my three boys have never had lice. I don't know how we've managed to make it through a majority of elementary school without dealing with those little buggers, but somehow - knock on wood - we have. But here's the rub - merely surviving the school year without lice doesn't make it time to celebrate. Each year more than 12 million kids, age 3 to 11, get lice - and no, unlike your carpool and lunch-making duties, lice don't take the summers off. So as the kids are heading off to your city's local day camp, an adventurous sleep-away camp, or even a week away camping out in the great outdoors, how can a parent keep their child lice-free all summer long?
With camp season just around the corner, we're sharing four important tips for avoiding lice this summer. But first, let's start off with a few head lice facts:
Head lice cannot hop or fly. They are spread by direct contact with the hair of an infested person.
Head-to-head contact with someone who already has head lice is the biggest risk. Spreading lice via infected items such as hats, brushes or sweatshirts is actually relatively uncommon.
Personal hygiene or cleanliness in the home or school has nothing to do with getting head lice.
Summer camp is one of the most important times to be vigilant about head lice and take measures to protect kids. While many camps now perform head checks at registration to help prevent lice transmission at camp, the goal is to avoid lice infestation altogether! Here are four tips to try to keep your kids lice-free at camp this summer.
Tip #1: Make weekly head checks a part of your summer schedule. 
Here's a no-so-fun fact: Lice can be present before there are any symptoms such as itching. In fact the itching is usually a reaction to the lice biting the scalp and can show up 2 to 4 weeks after you're infested. Yes, weeks. So merely waiting until your child complains about itching means you're too late to prevent the buggers. While many camps are now performing head checks on registration day to help prevent lice from spreading among campers, you can get ahead of the pack (ha ha - get it?) by making weekly head checks part of your summer schedule. The experts at Vamousse share how to do a lice head check:
Work under a bright light and use a nit comb to help remove anything you find. Part your child's hair and watch for movement as lice will quickly travel away from the light.
Look for eggs stuck to the hair shaft near the scalp. About the size of a poppy seed, they often look like dandruff that can't be easily removed
Pay particular attention to the nape of the neck, behind the ears and on your child's bangs to the crown of their head. Recently laid eggs are nearly transparent so it's helpful to examine hair from different angles.
If you find signs of lice, treat immediately with single-treatment solution like Vamousse's Lice Treatment that even is effective on super lice.
Tip #2: Use a daily defense shampoo.
You don't have to cross your fingers and hope your child doesn't pick up lice at summer camp. Two weeks before camp and during camp, have your child switch to a daily defense shampoo such as non-toxic Vamousse Lice Defense, which has been shown to kill lice during routine hair washing. It's designed to kill lice with repeated, routine use for 10-14 days. Plus, it's non-toxic, pesticide-free, and safe for kids 2 and older. To avoid any raised eyebrows at camp, squeeze some of the shampoo into a clear travel bottle.
Tip #3: Promote braids and up-dos.
Warm summer weather is a great time to learn a few new techniques for getting long hair up - as an added benefit, hair that isn't long and loose is often less susceptible to lice. If you normally do your daughter's hair each morning, take some time in the weeks before summer camp to help her learn some braids or up-dos that she can do on her own. Try this How to make the Elsa braid from Frozen or this Braid Within a Braid Tutorial to keep hair looking good and less likely to get lice.
Tip #4: Try a repellent spray.
Since I have three boys, braids aren't an option in my house. And – truth be told – my boys don't shower every single day so the daily defense shampoo won't protect my kids during the summer. Instead, I'll be turning to a simple lice repellent spray like Vamousse Lice Repellent & Nit Defense. After they are dressed and ready for the day, you can simply spray it onto dry hair. 
The spray smells mildly herby (because it's made with essential oils, not the smell you probably think of when lice products come to mind) which dissipates in a few minutes as soon as the spray dries. And get this – the spray provides eight hours of lice repellency! Plus it's been proven to deter any lice already present from laying eggs to stop the lice cycle cold. For sleepaway camp, pack your child a mini spray bottle of the stuff and start building the habit now of putting it on each morning. It's a simple, fast and effective way to protect my boys from lice all summer long. Now if only it could protect me from hearing, "Moooooom, I'm boooored!"
Get your family ready for summer camp lice protection with Vamousse's entire line of lice treatment and daily use options. Here's to kids (and adults!) enjoying summer camp, and not letting lice ruin your family's summer fun!
MORE SUMMER FUN IDEAS FROM MOMTRENDS
PIN IT!
Need more ideas on what to do with the kids? Be sure to follow our Activities to Do with the Kids board on Pinterest here.
Find Vamousse products without a prescription nationwide at Walmart, CVS, Walgreens and online at Amazon.com.
 This is a sponsored post.