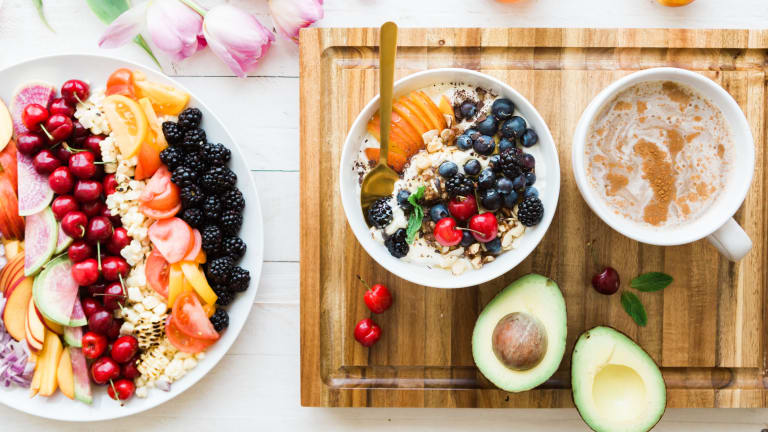 Publish date:
4 Health Foods to Sneak Into Smoothies
Here are four health foods that will bump up the nutrition of your next smoothie.
Ahh, the beloved smoothie. One press of the blender button and who can remember if there was a handful of spinach in there with those blueberries, a few chard stalks under that banana. It's cold, it's delicious, and it's a great way to sneak some healthy foods in to your kids' diet (and your own!)
Related: Three morning smoothie recipes to start your day.  
First a few tips for getting adventurous with your smoothies:
Start small: Start by adding a little bit of the new addition at a time so you/your kids get accustomed to any flavor or texture changes.
Cover with color: Worried your kids will notice the green tint from the kale? Cover up color changes with berries. Blueberries are great for this.
Give it an awesome name. Kids catch you dumping chia seeds into the blender? Call them "strength seeds" and tell them how chia seed can swell to ten times their original size. Just like their muscles will. *wink, wink*
Here are four health foods that will bump up the nutrition of your next smoothie.
1. For more greens: Spinach or kale
If your smoothies consist of mostly fruit, start with this first easy step by sneaking in a handful of spinach or kale into your next batch. I like to use baby kale (shown here) or lacinato kale which can be slightly sweeter and less hearty than curly kale. My kids never notice a cup of kale but will start to complain if I get closer to two cups. Start small while taste buds adjust.
2. For more omega-3s: Chia seeds
Chia seeds are another healthy no-brainer for throwing in a smoothie. One ounce of chia seeds (about 2 tablespoons) has 10 grams of fiber which is good for your gut and to help that smoothie feel more filling. Chia seeds are also a great plant-based source of omega-3s which many of us are deficient in as well as a good source of iron, calcium and magnesium. These little black seeds are flavorless and nearly invisible in a smoothie - especially if you have other berries with small seeds like strawberries. Do note: just like berry seed have a way of getting stuck in your teeth, so do chia seeds so be sure to do a quick post-smoothie mirror check. Chia seeds can swell to ten times their normal size as they sit in liquid and take on a gelatinous, tapioca-like texture, so these are best used in smoothies that will be consumed right away.
3. For added fiber: Oats
Yes, rolled oats. For added fiber and to help your kids feel full longer, start by adding some rolled oats to your blender first and blending them into a flour-like consistency. Then add your other fruits, veggies and liquids. The pulverized oats will blended in easily to your other ingredients adding some extra nutritional and consistency oomph to your smoothies.
4. A serious superfood: Spirulina
If you've master hiding kale and chia seeds, then you're ready for the big time: spirulina. This blue-green algae powder is rich in protein, vitamins, minerals, carotenoids, and antioxidants. It contains about 60% plant-based protein and is a good source of many B vitamins, iron and chlorophyll. But it is not for the faint of heart. It smells - as my children kindly offered - like swamp water, so start with a half a teaspoon and work your way up.
Ready to blend? What kale? What chia seeds? Looks purple to me!
MORE FOOD FEATURES FOR YOUR FAMILY FROM MOMTRENDS
PIN IT!
Use Pinterest to save your favorite recipes. Be sure to follow our Kid Food Pinterest board here.
Momtrends was not paid for this post.