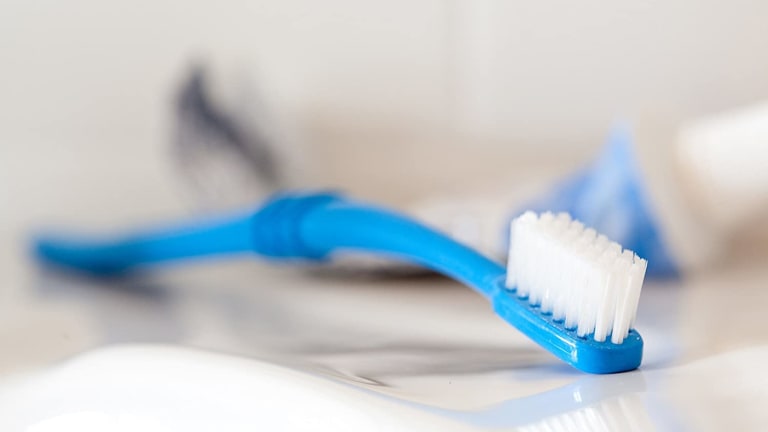 Preserve Recycles Toothbrushes
An easy way to save energy and preserve natural resources while getting your teeth clean.
Put those used brushes back to work with this cool new Mail Back program from Preserve. These guys always amaze me with uses for our old yogurt cups. The Mail Back Pack is a revolutionary approach to packaging. When you are done with your toothbrush, you just send it back to Preserve for recycling (dentists recommend replacing your brush every three months!). We think this is a clever way to avoid landfills as you take care of your chompers.

Related: Our favorite kitchen compost containers.
Preserve Recycles Toothbrushes
This brush first and foremost is meant to get your teeth clean. The Preserve toothbrush design includes a curved handle for those hard-to-reach places and a three-level bristle arrangement to massage your gums. The BPA free brushes come in five fashionable colors (magenta for us please!). Preserve uses 100% recycled plastics in handle (at least 25% recycled Stonyfield Farm yogurt cups), but it doesn't stop there.
All the products are made in the USA. This cuts down on emissions--they can ship shorter distances, using less fuel and limiting environmental footprint.
Brush away and then send your brush away
The postage on the first 250,000 Mail Back Packs sold is free. After that, all you'll have to do is pop a first class stamp on the package and send it back to for recycling. You will also receive a coupon for Preserve's online store. For every six Preserve toothbrushes that you send back, you will reward you with a $6 coupon.
Get your Preserve toothbrushes on Amazon here.
MORE ECO-FRIENDLY IDEAS FROM MOMTRENDS
PIN IT!
Use Pinterest to save your favorite ideas from Momtrends. Be sure to follow our Momtrends here.
Momtrends was not paid for this post. Shopping affiliate links helps support our editorial efforts.