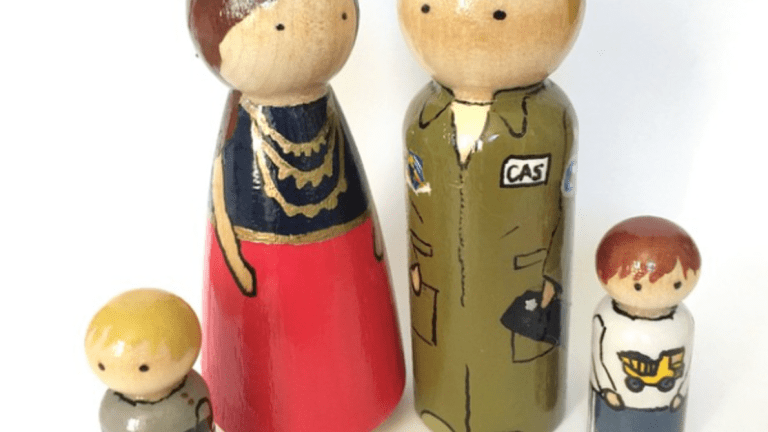 Living in Japan online shopping isn't just a convenience, it's a way of life. Sure, there are some local options but they just aren't.the.same. Online shopping is a necessity and, to be honest, it's taken some of the fun out of it. Gone are the days of browsing Etsy for hours on end. When I'm on Etsy, it's for a purpose. (And usually that purpose is 3 months away since it takes so darn long for things to get to us.)
Related: Craft corner how to learn the 50 states
But, online shopping can and should be FUN. Our new feature, Sunday FUNday, is all about sharing FUN finds. Not stuff you need, but stuff you fall in love with and have to have.
First up? The darling peg dolls from my friend Patriotic Peggy.
Patriotic Peggy Custom Pegdoll Family
See why we're smitten? Patriotic Peggy paints completely custom dolls right down to the jewelry and outfits for each family member. The adult dolls are 3.5 inches tall making the family set a perfect size for display.
Patriotic Peggy painted our family based on the outfits we wore in our family photos last spring in Germany. I also sent along a photo of my husband's uniform patches since we wanted his peg doll wearing a flight suit. Yes, the dolls are so detailed and custom that the uniform even has particular patches. Other cool touches? The plaid and details of my sons' pants, the headband on my daughter and I'm wearing my new favorite necklace.
But I'm pretty sure my favorite peg family so far is this sweet babywearing mama. I mean! Can you even stand it?
MORE 4TH OF JULY IDEAS FROM MOMTRENDS
PIN IT!
Use Pinterest to save your favorite ideas for summer fun. Be sure to follow our 4th of July board for more inspiration.