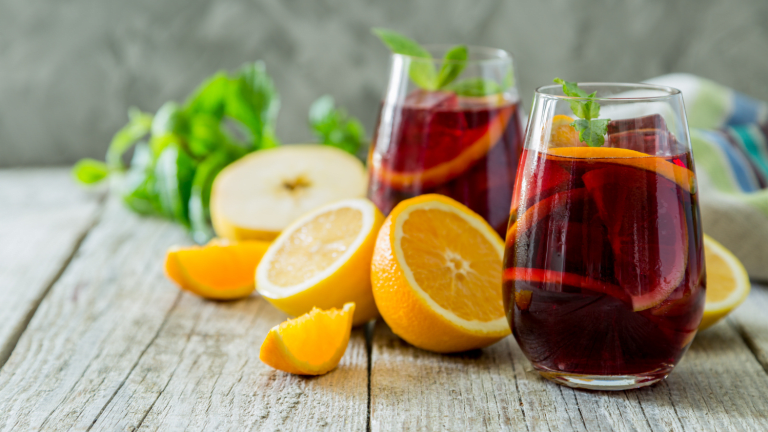 Winter Sangria Recipe
Check out our delicious sangria recipe that's delicious on colder days!
When do you typically drink sangria? On a hot summer day right? Well, it doesn't have to be that way. Sangria can give you a nice warm feeling in your tummy any day of the year. In fact, I'm particularly fond of making a batch right in the dead of winter. You know what I'm talking about...when you're sick of all those frigid temps and just want a glimpse of the sunshine. Plus, sangria is a great excuse to have some people over.
Related: Our favorite white sangria recipe
Have you ever thought about throwing a summer themed party in the winter? Why wait until June is on the horizon to enjoy traditional summer fare? Invite some of your favorite people over, whip up some guac and serve your guests your super tasty sangria. While I love making it from scratch, you don't necessarily have to. There are plenty of short cuts. They sell jugs of premixed sangria, so all you have to is add some fresh fruit slices.
But just in case you ARE feeling ambitious, my bestie shared her sangria recipe with me. And let me tell you, as someone who's experienced it first hand, it's work taking the time to make! I just had a glass of sangria while my hubs was carbo loading at Carrabba's tonight (he's running a marathon tomorrow) and it totally made me want to go home and whip up my own batch! 
After training for all these months, something tells me my honey would appreciate a nice cocktail next weekend. Our Sunset in a Glass is another great party options, but I digress...
Winter Sangria Ingredients:
1 orange cut in slices
1 pear cut in cubes
1 lemon cut in wedges
2 tsp lemon zest
1 tbsp granulated sugar
2 cups brandy
1 tbsp lemon juice
2 bottles red wine
2 cups orange juice
Large ice cubes
Winter Sangria Directions:
Add the lemon zest, sugar, lemon juice and brandy. Let set for 1-2 hours in the refrigerator.
Add the red wine and ice to your mixture and serve.
Cheers! And for another winter sangria recipe, check out our winter sangria video. I'm not the only who likes to play around with cocktail recipes right?
MORE WINE LOVERS FUN FOR MOMS
PIN IT!
Use Pinterest to save your favorite cocktail ideas. Be sure to follow our Wine Time board here.