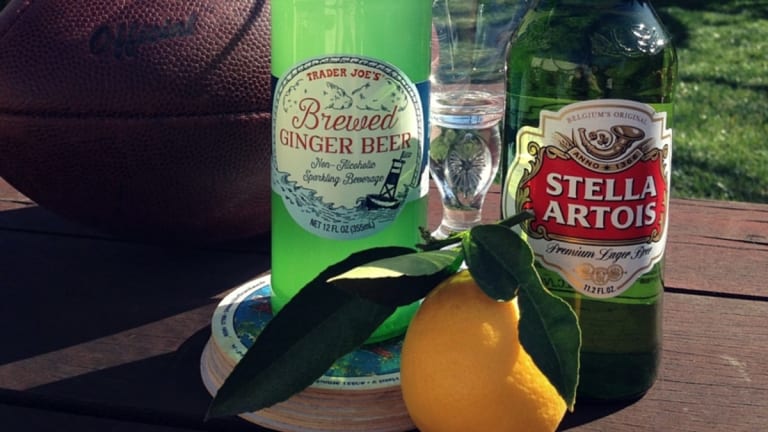 Publish date:
Perfect Drink For All-Day Super Bowl Sipping
A Super Bowl Shandy is the perfect drink with the all-day snacking of the super bowl
A Super Bowl Shandy is the perfect drink with the all-day snacking of the super bowl
Are you hosting friends and family tomorrow? Or heading to someone else's house? Super Bowl Sunday is tomorrow which means you may very well be joining 114.4 million of your closest friends cheering for your favorite team, yelling at the TV, and consuming large quantities of guacamole, chips, and chicken wings. What to drink with all that all-day snacking? A Super Bowl Shandy.
Why A Super Bowl Shandy?
While beer often is the preferred football-watching beverage, I like something a bit lighter if I'm going to be drinking all afternoon. This Shandy recipe is beer-based (since I know you'll likely already be stocked!) but is lightened up in one of two ways - with lemonade or non-alcoholic ginger beer.
If your lemon tree is exploding right now, like mine is, you may opt for homemade lemonade which can double as a great kid drink. (My recipe: dissolve 1 cup of sugar in 1 cup of water on the stove, cool. Add in 1 cup lemon juice and 2 additional cups of water.) This time, I decided to go with the ginger beer since I've been on a ginger kick lately.

5 Pretty Ways To Organize Your Jewelry
I admit - I'm guilt. Despite my best efforts, my "jewelry drawer" has become a tangled mess of necklaces, bracelets and earrings. This cluttered collection not only makes it hard to see what I have, but difficult to untangle the pieces I do want to wear! This summer, I'm ...read more
This Year's Coolest Jumbo Pool Floats
Pool season is almost here! I can't wait to relax, read a book, and sip a cocktail while lazily drifting in an oversized float. (Just kidding, I have two toddlers--but a swim mama can dream, right?). If you've got a staycation planned, check out this year's coolest jumbo pool ...read more
Crystal Clear and Pristine: Pool-Cleaning Tips
Tropical Storm Isaiah gave us quite the midsummer surprise here in the suburbs of New York City. We just got our power back on after a whole week of darkness! With trees down, debris everywhere, and lots of uncertainty, one thing we forgot to check on: our above ground Intex ...read more
Super Bowl Shandy Ingredients
pilsner (like Stella or Heineken) or pale ale (like Sierra Nevada or Firestone's Pale 31)
lemonade or ginger beer
garnish - fresh mint, thyme or rosemary sprig (optional)
Super Bowl Shandy Directions
The ratio is up to you! I like to use about 1/4 cup of lemonade or ginger beer topped off with a cold beer, but you can adjust it to your liking.
Cheers! This Super Bowl Shandy is light and refreshing, goes great with traditional football food, and will make sure you aren't asleep on the couch for the halftime show or miss any of the most-talked about commercials. 
MORE SUPER BOWL IDEAS FROM MOMTRENDS
PIN IT!
Save your favorite recipes and ideas from our The Big Game pinterest board here.