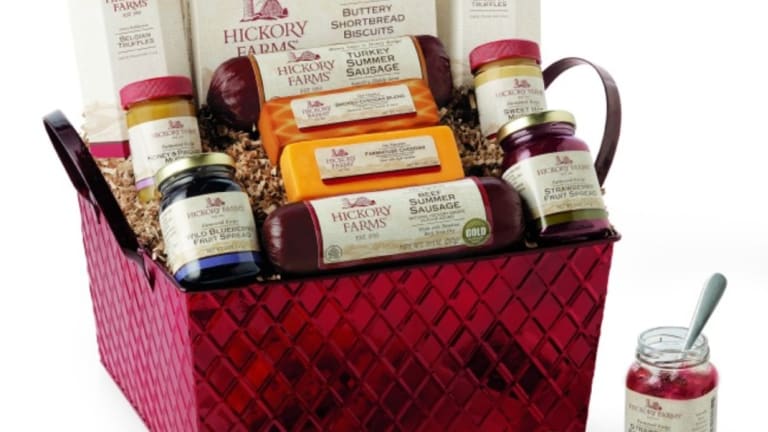 Holiday Traditions with Hickory Farms
Hickory Farms has been a part of our holidays for as long as I can remember. Their Beef Summer Sausage always joins our favorite cheeses and crackers on our appetizer table
Growing up, food was always a big part of our holiday celebrations. On Christmas Eve my mom always put out a delicious appetizer spread and on Christmas Day, she got up at the crack of dawn to start preparing the amazing meal we would all enjoy later in the day. Well, not much as changed in our family since I was a wee one. 
Holiday Traditions with Hickory Farms
We're still all about the food, only now my sister and I take turns helping our mom with hosting everyone. Christmas Eve is typically always at my house since we have kiddos, but that's probably going to change now that my sister is expecting her first baby...But no matter where our family gathers, our appetizer "meal" tradition will always be in effect. And, I have to say, I love it when one of my guests shows up with a Hickory Farms basket. You would be surprised by how often that happens!
While I love a nice, formal holiday dinner, there is something so cozy about everyone heading over to the appetizer set up at their leisure and grabbing a seat wherever they're most comfortable. The vibe is nice and laid back. A perfect way to relax before the craziness of the next day. With little ones anxiously awaiting Santa, Christmas Day is a blast, but a tad bit hectic, so I have grown to really enjoy our casual Christmas Eves!
Hickory Farms has been a part of our holidays for as long as I can remember. Their Beef Summer Sausage always joins our favorite cheeses and crackers on our appetizer table and after everyone has left and the kids are in bed, I typically fix a plate of sausage and cheese for the hubs and I to nosh on while we sip on some vino and watch our favorite holiday flick, Love Actually. That's become our little holiday tradition as well.
If you want to pick up a Hickory Farms basket for a loved one, or even yourself, this holiday season, you can visit one of the nearly 600 Holiday Market stores and kiosks across North America, as well as look for them at select retailers. And you can always head over HickoryFarms.com too.
MORE FOOD IDEAS FROM MOMTRENDS
PIN IT!
Be sure to to follow our Recipes to Inspire board here.
Disclaimer: Compensation and products for review were provided by HickoryFarms via MomTrends. The opinions expressed herein are those of the author and are not indicative of the opinions of HickoryFarms.