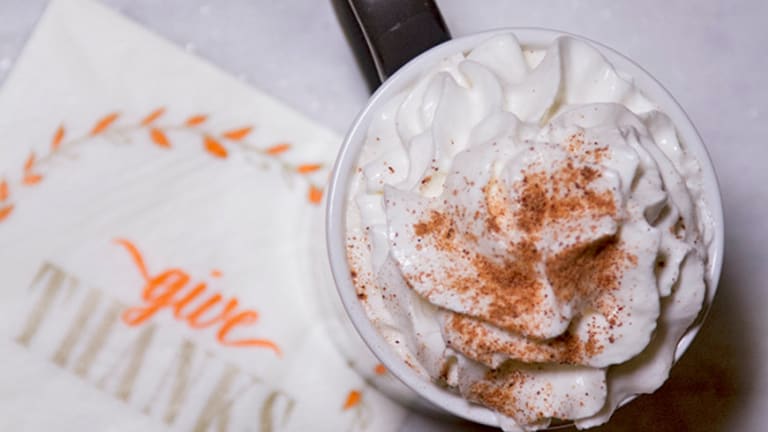 Easy Pumpkin Latte Recipe
Check out our super easy pumpkin latte recipe!
We all love a good pumpkin spice latte right? Wouldn't you love to be able to whip one up at home? It's easier than you think! When perusing Pinterest the other day I came across a pumpkin spice latte recipe from Gimme Some Oven that produced a beautiful drink, but maybe went a step beyond where I wanted to go with it. Mama's all about a good short cut. Ha! So, when I found a pumpkin syrup, I knew I was ready to tackle my own pumpkin latte. The aspirational recipe calls for making your own syrup. And if you're up for it, I highly suggest you give it a whirl...It looks delicious!
Related: 10 Ways to get your pumpkin spice fix
If, however, you love coffee hacks as much as I do, I think you're going to dig how easy this pumpkin latte is to make...Get ready to really impress your honey with some pumpkin goodness the next time you serve up a nice weekend brunch. I'm all about capturing as many fall flavors as I can this month and pumpkin is, obviously, tops!
Easy Pumpkin Latte Ingredients
2 oz. espresso
1 oz. pumpkin syrup
3/4 cup steamed milk
nutmeg
whipped cream
Easy Pumpkin Latte Recipe
Mix together the espresso, pumpkin syrup and steamed milk in your favorite mug
Add the whipped cream and sprinkle some nutmeg on top. 
That's all there is to it! See? I told you my pumpkin latte was super easy! You can always count on us for time savers...and for coffee too for that matter. We're kind of obsessed...
MORE FALL RECIPES AND DRINKS FROM MOMTRENDS
PIN IT!
Be sure to follow Momtrends on Pinterest and for more spooky inspiration follow our Halloween and Thanksgiving Boards here.