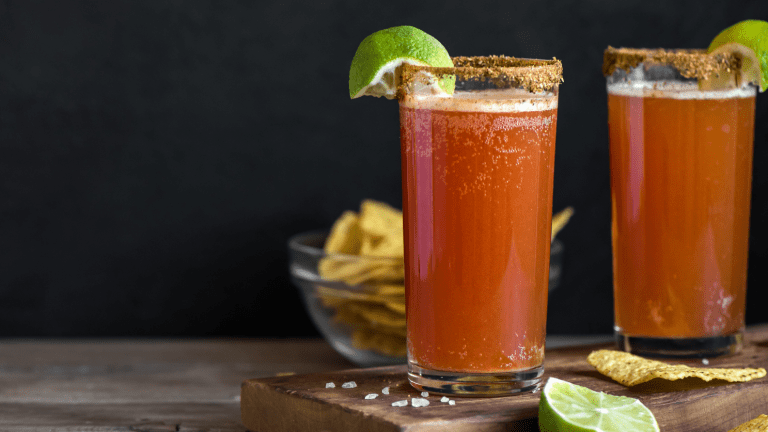 Easy Michelada Cocktail Recipe
This take on the Michelada cocktail is perfect for beer and Bloody Mary fans!
If you've picked up anything from my cocktail posts, it's probably that I really like simple ones. I mean...I really dig them. Hey, mama's busy. I don't have all day to play bartender. Haha! Give me a two ingredient drink and I'm a happy girl! Luckily, there are a slew of 2 ingredient combinations out there and today I'm sharing yet another one.
Related: Michelada Mexican cocktail with Clamato
This take on the Michelada combines the beer lover in me with the Bloody Mary fan. If you've never had a Michelada and aren't sure you like the sound of it, don't write me off quite yet. If you enjoy a nice brew as much as you're tickled by the brunch-ready Bloody Mary, you're sure to like this drink. At least give it a try! What do you have to lose?
Easy Michelada Cocktail Ingredients:
6 oz. light beer
1-2 oz. tomato juice
*Optional:
dash of Worcestershire sauce
pinch of pepper
quick squeeze of a lime wedge
Easy Michelada Cocktail Directions:
Simply pour chilled tomato juice in your glass and top with an ice cold beer. 
You can pour them over actual ice if you prefer, but I don't like the way it waters down my drink. That's just my preference. Traditionally, you'll find the Michelada served over ice.
See? This "recipe" is as easy as all the other drinks that I've featured. Maybe I'll get fancy with my cocktail mixin' next time. Maybe...In the meantime, if you'd like to take things a step further, add in the optional ingredients or really go all out and try this recipe from Food 52, which I found in a roundup of Micheladas that Huffington Post put together. There are actually a bunch of ways you can make them. And while the recipe over at Food 52 is a bit more involved, I bet it tastes amazing! In fact, it inspired my somewhat simpler version.
MORE FUN SIPPING IDEAS FROM MOMTRENDS
PIN IT!
Looking for more entertaining ideas? Check out the Momtrends' Wine Time on Pinterest!