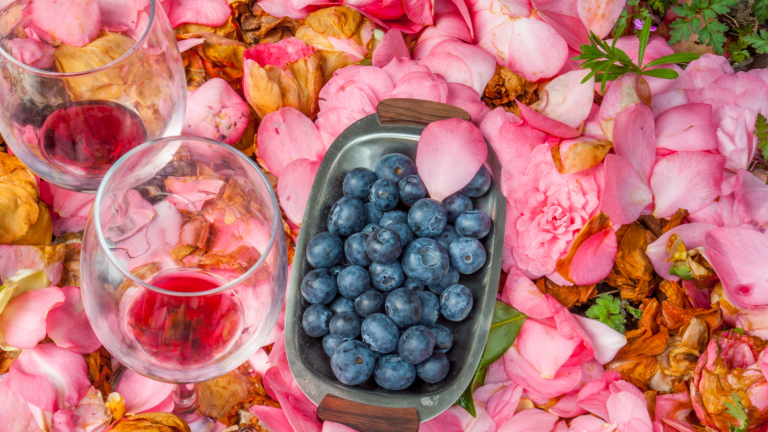 Blueberry Wine Spritzer
This blueberry wine spritzer is the perfect end of the summer cocktail!
My best friend is in town this weekend, so I'm in serious entertaining mode! We both love a good cocktail and I thought it would be fun to whip one up that was a nod to the end of summer. When I think about summertime drinks, berries always come to mind. I've made a slew of strawberry cocktails over the years, but I've never made anything with blueberries. So, obviously you know where this is going...
Related: Here are 3 end-of-summer low-calorie spritzer recipes
For today's Saturday sip, I concocted a seriously refreshing blueberry spritzer. If you're looking for a ridiculously easy drink, this simple spritzer is for you. It has only a couple ingredients and is just perfect for a warm day. Considering we're in Florida, it's definitely warm. In fact, it's downright sweltering. Haha!
Blueberry Wine Spritzer Ingredients:
blueberry wine
sparkling water OR lemon line soda (your choice)
Blueberry Wine Spritzer Directions:
All you do is fill up your glass with plenty of ice
Add some blueberry wine and top it off with a splash of sparkling water or lemon lime soda to add some fizziness. 
I preferred the sparkling water, while my friend enjoyed the sweetness that the lemon lime soda brought to the table. I love that you can totally customize it! And if you're looking for a nice cheese pairing, goat cheese is delightful with this blueberry wine spritzer.
MORE WINE LOVERS FUN FOR MOMS
So, what have you been sipping on today lovelies? For more cocktail inspiration, check out these Momtrends features.
PIN IT!
Use Pinterest to save your favorite cocktail ideas. Be sure to follow our Wine Time board here.
For even more Momtrends, follow us on Facebook, Twitter, Pinterest and Instagram