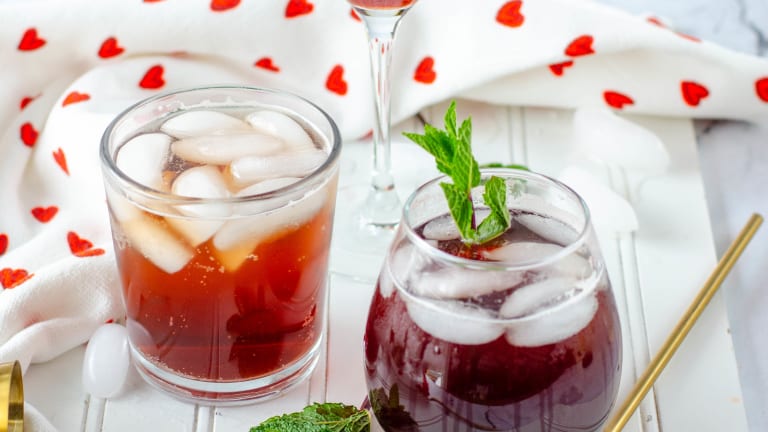 3 Easy Valentine's Day Cocktails
Easy recipes for a handful of festive drinks to celebrate love with your partner.
Valentine's Day is coming up, now that I've alerted you, it means you have no excuse for not having enough time to cook dinner at home. Since staying in is the new going out, we've developed three easy Valentine's Day cocktails to help make the night more romantic.
Valentine's Day at Home
True, you could try to grab a reservation at a swanky restaurant with a zillion other people, choke down an over-priced prix fixe menu, and listen in on awkward conversations of the newly coupled ("So where did you grow up again?") and the tensely married ("So are you saying you think my sister is pretty??!") Orrrrrr....you could stay home. And save money. And cook a delicious meal for two just the way you like it. A dinner that begins, of course, with a fabulous and flirty (and simple) Valentine's Day inspired cocktail. Read on.....
Plan the Perfect Valentine's Day
First, here are my rules for a fabulous Valentine's Day at home:
Make it kid-less. Do a late dinner for two after the kids go down. Or swap some babysitting with some friends (you take them Friday, she takes them Saturday). Or put on a movie in another room and pay your oldest $5 to get his or her siblings to bed after the movie without bothering you. In other words, WHATEVER WORKS. As you likely well know, romance is easily killed by kids spilling milk, in-depth conversations about Minecraft or American Girl dolls, and tantrums that the chicken (wah!) is touching the carrots (wah!). Find a creative way to make dinner kid-less.
Divide and conquer: It's no fun having one person do all the work - even if that person likes cooking. Instead enjoy the journey as much as the destination by cooking Valentine's Day dinner together. Put the man of your dreams in charge of something he's excited to take on (an interesting app? A fun cocktail? Lobster tail on the grill?) Cooking together provides lots of great opportunity for conversation, flirty banter, and suggestive looks while you cross paths across the kitchen.
Make an effort: Eating at home may seem like an excuse to dine in your yoga pants. Avoid this if at all possible. You can do that on Friday. Or Sunday. If you're not going to get dressed to the nines just to stay in, do still make an effort in one area. Throw on a pair of heels or that dress he likes. Add a few extra dashes of perfume or those earrings he bought you last Christmas.
One wowzer dish - and keep the rest simple. Here's a surefire recipe for a Valentine's disaster: Four new, super complicated recipes you've never made before + the stress of creating a perfect Valentine's Day = a hot, stressed mess.
Instead of trying to become Ina and Giada and Martha all rolled into one for one glorious night, choose one wowzer element (a show-stopping entree? A night-to-remember dessert? An amazing tablescape?) and keep the rest simple. Remember, no one looks sexy when they are stressed.
3 Easy Valentine's Day Cocktails
So in the spirit of a stress-free Valentine's Day, I present you with three easy cocktails right on theme for this holiday of love: they are red, made with pomegranate juice (good for your heart), and (surprise, surprise) made with liquor which, in moderate doses, can enhance a romantic evening with that special someone. Plus, they each have ONE STEP, making them a win for getting your at-home, stress-free Valentine's Day underway.
Kate's Pomtini 
(serves 1)
3 vodka
2 pomegranate juice
1 simple syrup
splash of lime/orange
Pour first three ingredients into a shaker and add a squeeze of lime and ice. Shake until chilled and pour into a chilled martini glass.
Pomegranate Aperitif 
(serves 6)
1 cup pomegranate juice
2 tablespoons saba (can't find it? Sub in aged balsamic vinegar)
2 cups Lillet Blanc
4 dashes celery bitters
Club soda
Whisk pomegranate juice and saba in a large pitcher, then stir in Lillet and bitters. Pour into rocks glasses filled with ice; top off with club soda. (via Bon Appetit)
Lady in Red
1.5 ounce Maker's Mark bourbon
1 ounce POM Pomegranate Juice
.5 ounce lemon juice
Ginger Beer (chilled)
Combine lemon juice, pomegranate juice and bourbon in a cocktail shaker filled with ice. Shake vigorously for a minute then pour over ice in a rocks glass and top off with ginger beer. (via Creative Culinary).
More Ways To Make it a Happy Valentine's Day!
 Check out other Valentine's Day cocktail options here and here.
Pin it!
Be sure to follow our Cocktail Chic Pinterest Board and pin your favorite cocktail recipes.
Momtrends was not paid for this post. We were given samples for review. This post may contain affiliate links. By clicking and shopping, you help support Momtrends and allow us to keep reporting on trends.