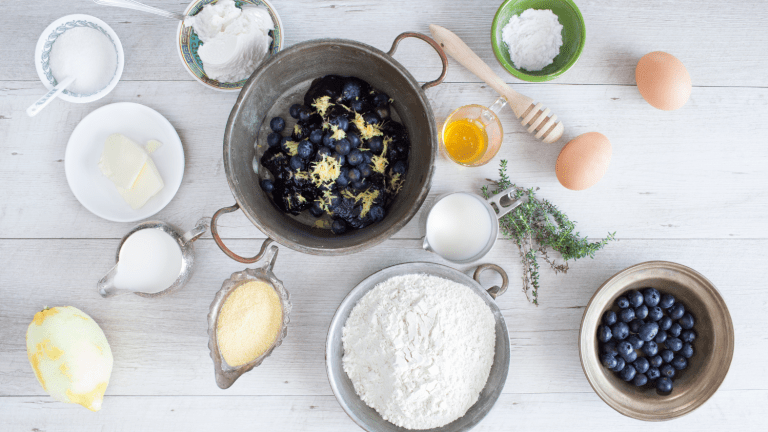 Why Moms are Loving This Blueberry Couscous Salad
This summer salad is quick to make and brings together a great combination of fruity flavors.
It's blueberry picking time. And while most blueberry recipes revolve around baked goods, we've got something different to share. First, a few sentences singing the praises of this lovely fruit. Blueberries are high in antioxidants, improve memory function and reduce the effects of aging.
Related: Three of our favorite summer blueberry recipes
Why we Love Blueberries
We went picking last week and it was a blast--my 3 y.o. should have been weighed upon exit--she must have eaten 1/2 a pound. TIP: Look for dry berries with a soft, hazy white coating, which is called "bloom." Bloom is a completely natural part of the berries' defense mechanism and helps protect them from the harsh rays of the sun.
According to Driscolls.com, blueberries will last for 5-7 days in your refrigerator. TIP: If you plan to freeze your blueberries for jams and jellies, remember not to wash your berries before freezing.
Blueberry Couscous Salad with Mango, Onion and Lemon Dressing
Now on to the recipe. This salad is quick to make and brings together a great combination of flavors. Diced mango and red onion partner with blueberries and flecks of fresh mint in this colorful, lemony couscous salad that stands out on the table and the palate.
Blueberry Couscous Salad Ingredients
1/2 cup orange juice
1/3 cup water
1/2 tsp. salt, divided
3/4 cups whole wheat couscous
1 pkg. Driscoll's Blueberries
1 cup fresh mango cubes
1/3 cup chopped red onion
2 Tbsp. chopped fresh mint
2 Tbsp. fresh lemon juice
2 Tbsp. extra virgin olive oil
1/8 tsp. black pepper
Blueberry Couscous Salad Instructions
Combine orange juice, water and 1/4 teaspoon of the salt in a small saucepan. Bring to a boil. 
Stir in couscous; cover, remove from heat and let stand 5 minutes.
Transfer couscous to a bowl and fluff with a fork; cool 10 minutes. 
Stir in remaining 1/4 teaspoon salt, blueberries, mango, onion, mint, lemon juice, olive oil and pepper; mix well. 
Serve immediately or refrigerate until serving.
MORE FOOD FEATURES FOR YOUR FAMILY FROM MOMTRENDS
PIN IT!
Use Pinterest to save your favorite recipes. Be sure to follow our Kid Food Pinterest board here.
Momtrends was not paid for this post.