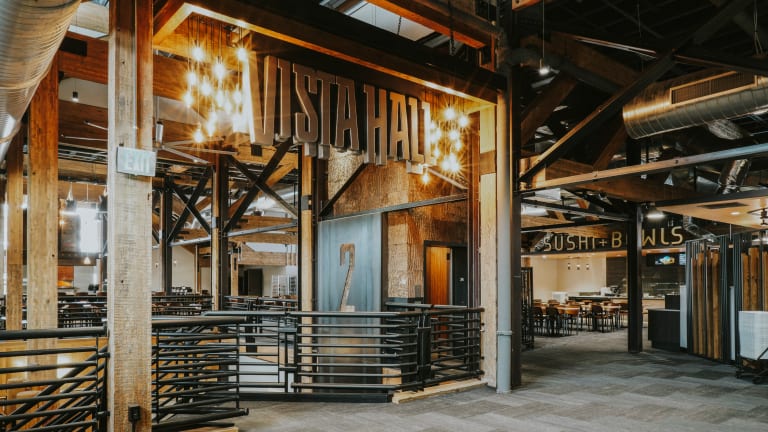 Where to Eat in Big Sky Montana
If you're heading to Big Sky anytime soon, I've got a slew of great ideas on where to eat in Big Sky, Montana.
A world class ski resort needs a few things. First, great reliable snow. Second, luxurious lodgings. Third, they need great food. If you're heading to Big Sky anytime soon, I've got a slew of great ideas on where to eat in Big Sky Montana.
Where to Eat in Big Sky
Big Sky, Montana certainly delivers when it comes to the snow. I'm happy to say, there's been a concerted effort to elevate the quality of the food at the resort and in the surrounding town. Let's break it down by the meals.
You'll work up a big appetite skiing the thousands of acres at Big Sky. There's good news—you don't have to take your boots off to have a bite that will not only satisfy your hunger, but also please your palate.
Vista Hall at Big Sky
In late 2019, the doors opened to Big Sky's new multi-station food hall, Vista Hall. Hungry skiers, riders and resort guests can easily explore a new cuisine every day of the week this season while enjoying panoramic views of the mountain. 
I'm happy to see that this dated and underused area of the Big Sky Village was due for a renovation. It's now modern, fresh and ready for hungry visitors. It'll seat 350 people and is located on the upper level of the reinvented Mountain Village hub, The Exchange.
Open from breakfast through dinner, there are six new options in Vista Hall. Pick from fresh sushi, street tacos, stone-fired pizza, a classic deli, burger grill, and a European-style coffee and crepe shop. 
Ready for aprés ski? Vista Bar will serve craft cocktails and a selection of Montana beers with a stunning backdrop of Lone Peak.
Everett's 8800'
Dining keeps getting better at Big Sky. When it comes to can't miss dining experiences, Everett's can' be beat. They are open for breakfast (be sure to check out the first-tracks breakfast you can book), lunch and dinner. I love the experience of riding the Ramcharger 8 bubble lift to this stunning mountaintop chalet.
Everett's is set up with Lone Peak as the backdrop, the food is awesome with a heavy emphasis on Montana fare (for instance the lamb is from Montana Natural Lamb in Big Timber, MT). Start with a crisp salad and then dig into some hearty meat like the elk, lamb or beef. The wine list is impressive as are the views. If you are lucky, you'll get a spectacular sunset. For the kids, there's a fantastic kid's menu that's not dumbed down, like the Bison Ravioli. After dinner, the lift operators will give you a blanket to wrap up in as you head back to the Big Sky Village. Reservations suggested.
Snowcat Dinner at the Yurt
On our girl's trip we also got to check out the snowcat dinner. We left from the village and headed out in a few cats two miles up Lone Peak. You an opt to sit on the roof or inside (hint, inside is warmer). As the snow was gently falling, we made our way up to the heated yurt.
As the experts grilled the salmon and steaks for dinner, we enjoyed a glass of wine (it's BYOB, there's a decent market in the village for wine) and watched the more energetic souls on the sledding hill. We had a great meal that kicked off with a hearty soup and finished with a savory dessert and had a big hunk of salmon in between. Get the details here. Book at (406) 995-3880.
Horn & Cantle
Special Pick: On our Nordic Ski day, we popped over to the Lone Mountain Ranch. It's got miles of cross-country skiing and I'm told they recently renovated the rooms. While they were at it, they also updated the menu of the restaurant. Newly named, Horn & Cantle (if you were wondering a cantle is the back of the saddle), is a real treat for lunch. The $17 "skiers lunch" is a great value. The room is full of western charm (aka stuffed animals) and there are bird feeders lining all the windows. The lunch includes a salad of the day (our day had a pasta salad with spinach and tomatoes), rolls, and then two soup options—one of the options is always an elk chili. The lunch also comes with a wrap sandwich. It's a reach value and the food was excellent.
Breakfast at Big Sky
Off the mountain there's lots to be discovered too. We drove into the nearby "meadow" the town of Big Sky below the resort (it's about a 15-minute drive) to try Caliber Coffee. The brew master roasts his own beans and Mr. Momtrends reports it was worth the drive.
For a quick family breakfast try the Blue Moon Bakery—we popped in and picked up some breakfast sweets. I thought the peach and raspberry scones were moist and packed with fruit.
Gallatin Riverhouse grill
Now let's take a minute and talk about off-site dining in the area. Live music, punchy cocktails, and tasty BBQ--Gallatin Riverhouse Grill is equal parts restaurant and saloon; local hangout and tourist hotspot. On any given night, it's loud and busy and bustling, and full of energy. An expansive outdoor patio with glorious mountain and creek views make it an authentic Montana gem. While the impressive beer list has enough (local) options to satisfy thirsty customers; the Montana Mule is not to be missed. Order it with huckleberry vodka (instead of whisky) and I promise you won't be disappointed. The barbecue platters are impressive and affordable, but the 7 dollar friend chicken plate is famous in Big Sky. It's the probably the best deal in town. (Incidentally, my ski instructor told me he knows a first date is going well if his plus-one orders the chicken.)
Big Sky Town Center
If you want to drive out of the ski area, head to the Big Sky Town Center for more dining options. There's a great organic grocery store called Roxy's and a fun Italian spot that's family friendly.
Ousel and Spur Pizza Co makes delicious pizza and has fresh salads too. The pizza crust is hand-tossed and the restaurant sources locally. There's also a great and well-priced wine list. Service is excellent and pretty speedy.  Find out more Ousel and Spur Pizza Co. 50 Ousel Falls Rd, Big Sky, MT
Sleigh Ride Dinner at Lone Mountain Ranch
If you want to plan a special family meal there are a few options to think about and plan for. This was our second visit to the Lone Mountain Ranch sleigh ride dinner. Note: due to an early thaw in the meadow, the wagon was hitched to wheels not a sleigh. No matter, it was still plenty charming. The 30-minute ride delivers you to a cabin in the woods. Dinner is cooked on a 150-year-old iron stove. Prime rib is always on the menu, but there are plenty of veggies and a hearty soup for non-meat eaters, and don't skimp on trying the cobbler for dessert. During dinner, you'll be treated to western live music from Rick. He's plays two short sets and even took a request from our daughter to sing a Pete Seeger tune.
This is just the tip of the iceberg with our Big Sky coverage. More coming this fall to help you plan your ski vacation with the family.
Montage Restaurants
Montage added several new venues to the Big Sky dining scene, from après-ski and pub favorites to wood-fired Italian classics for an evening of fine dining.  Get all the details www.montagehotels.com/bigsky/dining/
Cortina offers elegant Italian fare
For Apres ski, Alpenglow welcomes guests with craft cocktails, beer and Alpine inspired brasserie.
Wildflower Market is a bakery, café and marketplace, this quaint shop is stocked with local artisan goods, take-away meals, specialty coffee and tea made to order and house-made ice cream and confections.
Beartooth Pub and Rec. offers bowling, darts and other family-friendly games with brick oven pizzas, classic American favorites, and local craft brews.
Backcast Bar & Grill provides classic barbeque and smokehouse favorites.
Stocking up on Groceries in Big Sky
If you're planning on cooking at home (and we did this 5 times during our week, you'll want to stock up BEFORE getting to Big Sky. We stopped into the Albertson's in Big Sky (near the airport), but I discovered Roxy's in the Village. Roxy's just opened and had all the organic brands we loved. From Itoen tea to Yellowstone Coffee to organic kale to Bark Thins, I loved the assortment and bright airy design.
What Else You Need to Know About Big Sky
MORE SKI FEATURES FROM MOMTRENDS
PIN IT!
Use Pinterest to save your favorite family travel features. Be sure to follow our Ski Moms Pinterest Board.
This is not a sponsored post, some of our meals were accommodated. Food Hall photos from Justine Jane Photography.